Published 11-09-21
Submitted by Qualcomm Inc.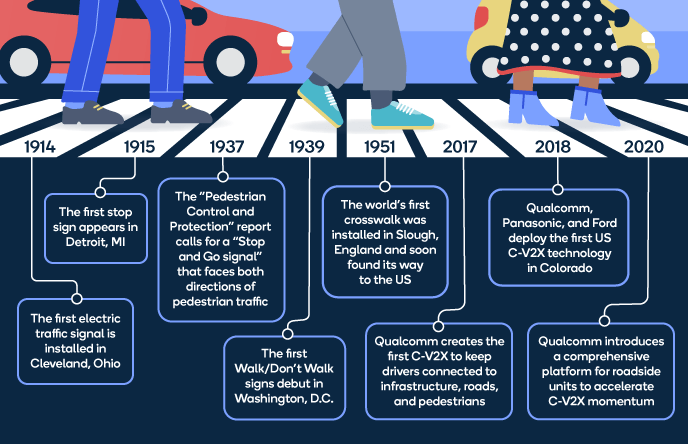 Originally published on Qualcomm's OnQ Blog
Whether headed to work, school, the bus stop or to exercise, walking is a part of most people's daily lives, making most everyone a pedestrian. In 2019 alone, 6,205 pedestrians were killed in traffic crashes in the U.S.1; that's about one person every 85 minutes2, up 27% since 2015, and accounting for 17% of all traffic fatalities 20193. In support of National Pedestrian Safety Month, Qualcomm Technologies is bringing awareness to pedestrian safety and reminding drivers to stay alert every time they are behind the wheel.
Designing safe transportation systems that prioritize people and use technology can accommodate for human error and can decrease the likelihood of serious injury or death to pedestrians. According to the National Highway Traffic Safety Administration (NHTSA), developments in vehicle safety have saved 27,621 lives over the past 50 years2. Below is a timeline that shows some key milestones in pedestrian safety.
Cellular-vehicle-to-everything (C-V2X), a wireless technology that allows vehicles to communicate directly with each other (V2V), roadside infrastructure (V2I), and pedestrians (V2P) can actively encourage safe behaviors among drivers and other road users. Not reliant on wide area networks, C-V2X supports real-time information sharing to inform safety applications, even in highly congested environments such as urban intersections.
Designed to reduce the number of injuries and fatalities on the road, C-V2X facilitates new applications that can help to address the unique safety needs of pedestrians and other vulnerable road users (VRUs). For example, a red-light violation warning could allow drivers to avoid crashes or reduce impact forces, helping to save lives and prevent serious injuries. C-V2X also does not need clear line-of-sight to work, helping to increase visibility for pedestrians even when drivers can't see them.
Smart intersections
Roadside units (RSUs) equipped with C-V2X and sensors such as cameras and radar can use 5G network connectivity and send warnings to road users equipped with C-V2X, further enhancing active safety warnings. For example, a camera can detect a pedestrian intending to step into an intersection before signaled and broadcast an alert to all vehicles in the area to make drivers aware. Having real-time awareness of pedestrian locations helps to proactively anticipate and assist drivers who could otherwise be late to respond to impending dangers in their surroundings. This real-time awareness can also help road operators dynamically manage traffic flow to accelerate the arrival of emergency vehicles in the event of a crash.
Qualcomm Technologies is proud to provide technology solutions that assist in achieving zero serious injuries and fatalities on our nation's roadways. C-V2X technology is being used across the U.S. to demonstrate how smart cities and intersections have the potential to allow all people to get to their destination safely and seamlessly.
The University of Michigan Transportation Institute (UMTRI) and Michigan DOT (MDOT) recently brought their Advanced Transportation and Congestion Management Technologies Deployment Program to the next level with a $9.9M award from the U. S. Department of Transportation, supporting a network of more than 20 smart intersections throughout the city and a fleet of vehicles that communicate using C-V2X. Learn more.
The City of Peachtree Corners is demonstrating the benefits of C-V2X communications at their Curiosity Lab in Georgia, a real world setting that serves as a model for other municipalities as they look to deploy smart solutions and programs. Learn more.
School bus boarding and alighting
On October 6th, people from across the nation came together for National Walk to School Day to demonstrate the benefits of walking. Less predictable and slower moving, kids and teens can take more time to cross the street, making driver awareness and pedestrian visibility crucial in school zones. According to NHTSA, injuries and fatalities among school-age children often occur on the way to and from the bus stop, or outside the school bus. From 2010 to 2019, 23% of all pedestrians killed in school-transportation-related crashes were children 5 to 10 years old2.
Audi, Blue Bird, Fulton Co. School System, City of Alpharetta, Qualcomm Technologies and Temple, Inc. recently demonstrated the safety benefits C-V2X technology can bring to school zones. RSUs were mounted to flashing speed limit signs near a school zone where they sent a direct, low-latency signal to a connected Audi, which alerted the driver with a visual warning and audible signal to slow down. Similarly, when the Blue Bird school bus extended its stop arm, the RSU alerted oncoming traffic that children may be entering or exiting a school bus. The technology can warn drivers when they're entering an active school zone or approaching a school bus, which can possibly help prevent some of the more than 25,000 injuries and 100 fatalities that occur in school zones and at school bus stops in the U.S. annually4. Watch the video.
Work zones
Work zone warnings are another use case that demonstrates how C-V2X technology can help to anticipate and mitigate potential crashes between vehicles and people on roadways. Audi of America and the Virginia Department of Transportation (VDOT), working with Virginia Tech Transportation Institute, American Tower and Qualcomm Technologies, have deployed C-V2X on roadways in northern Virginia to demonstrate enhanced safety for construction workers and motorists alike. In addition to providing robust, low-latency warnings to drivers, smart vests outfitted with C-V2X can also alert roadside workers near the boundary of their work zone when vehicles are approaching. Watch the video to learn more about how C-V2X is helping construction zones be safer for vulnerable road maintenance and construction crews.
When integrated into vehicles, roadside infrastructure, and specialty equipment such as safety vests, C-V2X supports alerts that can keep all road users safer. Qualcomm Technologies is dedicated to providing technology solutions that support the transportation community in building safer roads globally.
For more information about how C-V2X technology can help support VRU safety, please contact Praveen Singh directly at pravsing@qti.qualcomm.com.
Learn more about our automotive solutions
Visit www.nhtsa.gov for safety tips and more information on safe driving practices. 
1. https://crashstats.nhtsa.dot.gov/Api/Public/ViewPublication/813060
2. National Highway Traffic Safety Administration 2021
3. Source: FARS 2014 and 2018 Final File; Population – Census Bureau
4. https://www.cbsnews.com/news/school-zones-dangerous-for-kids/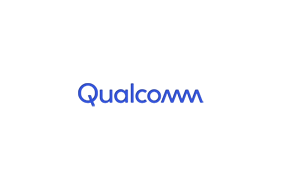 Qualcomm Inc.