Published 10-29-21
Submitted by Centre for Sustainability & Excellence (CSE)
October 29, 2021 /CSRwire/ - Being among the first companies worldwide to provide professional Executive education and specialized advisory services for Sustainability, Circular Economy and Corporate Responsibility, the Center for Sustainability and Excellence was set to innovate leadership and create a global new trend in certified executive training in Sustainability and ESG. More than 1,700 VPs of Sustainability and other Executives that represent 90% of FT 500 Firms have trusted CSE and the Sustainability Academy unique programs for their education.
In 2016, CSE created the Sustainability Academy, an innovative online platform for organizations to maximize their Social, Environmental and ESG Impact. The goal is to certify 100,000 professionals by 2025 and be the driving force of change for Business towards a more Sustainable and Net Zero future.
The Sustainability Academy offers unique Certified courses for professionals on all fields of Sustainability and ESG, such as Corporate Sustainability, Carbon Reduction, ESG Reporting, ESG Impact and Sustainable Investing, Circular Economy, SASB and TCFD Reporting. The courses provide a certified qualification to professionals so they can meet the high demands of their positions and the requirements of stakeholders.
Thanks to their innovative methodology and constant connection to global trends and challenges, the courses are designed to help professionals who want to make a career shift or scale up their skills in Sustainability and become part of the global change, towards a better, safer, greener and more just future.
It is no news that new roles and jobs are emerging to drive ESG and circular economy transformations – new global legislation around these issues proves beyond any doubt the rise of a new business model. These transformations require a well-trained workforce.
"Education is a key driving force of change towards more Sustainable Business and a better future for our planet. Only qualified C-Suite Executives and workforce can make it happen", says Nikos Avlonas, President and Founder of CSE, best-selling author and sustainability pioneer.  Based in part on his work with the Sustainability Academy, the Silicon Valley Community Foundation, the largest community foundation in US and globally, honored the President of CSE as  Practitioner of the Year for Corporate Responsibility, together with Google, Inc., winners of the corporate award in 2018.
Through the Sustainability Academy, CSE has succeeded in qualifying managers in thousands of organizations, such as Netgear, US Forestry Service, Coca Cola, Pepsico, Workday, GM.
CSE is approved by CMI (Chartered Management Institute), it is also Green America certified business, a PRI training partner and CPD certified.
For more information on how you can promote the initiative or join in the effort, contact communications@cse-net.org

Sustainability Academy courses: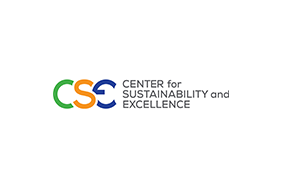 Centre for Sustainability & Excellence (CSE)
Centre for Sustainability & Excellence (CSE)
CSE is a global Leading network providing Sustainable Development Solutions to organizations & a Think Tank with offices in Brussels Athens & Dubai. CSE cooperates with international organisations, such as the EFQM (European Foundation for Quality Management), GRI (Global Reporting Initiative), UN Global Compact (United Nations Global Compact), EBEN (European Business Ethics Network), Forum for International Communications and the European Commission. CSE supports, on their journey towards sustainability, leading organizations such as Lloyds TSB, Eurocontrol, Dell, BP, DHL, Lafarge (Aget Heracles), Mc Cain, Bank of Cyprus and many others including the European Investment Bank, the largest financial Investment Institution of the European Union and the Government of Dubai (Dubai Center for Corporate Values ,DIFC, TECOM, DAFZA). The global presence of CSE is enhanced by numerous activities carried out in many countries/regions including the United Kingdom, Belgium, Luxemburg, Germany, Spain, Italy, Cyprus, Bulgaria, Romania, Turkey, Russia, China and the Middle East.