Published 10-05-21
Submitted by United States Business Council for Sustainable Development (USBCSD)
TORONTO and HOUSTON, Texas, October 5, 2021 /CSRwire/ - The United States Business Council for Sustainable Development (US BCSD), a leading business and sustainability association, today announced a strategic partnership with the bi-national Council of the Great Lakes Region (CGLR). The relationship will focus on developing and implementing a new initiative called the Great Lakes Carbon Collaborative (GLCC), which will be officially launched on October 29th.
Built to facilitate cross-sector engagement across sectors, customers, and suppliers up and down the value stream, the GLCC, modeled on the US BCSD's successful Gulf Coast Carbon Collaborative, will be driven by business and focused on developing and implementing initiatives that reduce carbon emissions across the economy while minimizing business impacts.
"By bringing interested companies, research institutes, NGOs and governments together, we will accelerate decarbonization activity in the Great Lakes region," said Andy Mangan, Executive Director of the US BCSD.
The bi-national Great Lakes region is North America's economic engine and the core of the long-standing, fully-integrated economic relationship between the United States and Canada, making the region, which is home to 107 million people and has a combined GDP of US$6.0 trillion, an ideal place for both countries to come together to discuss shared decarbonization interests and solutions.
"There's tremendous industrial activity in the bi-national Great Lakes Region and companies are more motivated than ever to reduce carbon emissions," said Mark Fisher, President and CEO of CGLR. "That's why CGLR is very excited to be joining forces with the US BCSD to launch the Great Lakes Carbon Collaborative because businesses need a regional forum to learn about different decarbonization strategies, techniques, and ways they can work together to drive greater carbon reduction."
About the US BCSD
The US BCSD is a 501(c)(6) nonprofit business association that harnesses the power of collaborative projects, platforms and partnerships to develop, deploy and scale solutions to ecosystems, energy, materials carbon, and water challenges. For more information visit https://usbcsd.org/.
About the CGLR
CGLR is a binational network of organizations comprising CGLR Canada, CGLR USA (501c6) and the CGLR Foundation (501c3). It is dedicated to creating stronger, more dynamic regional collaborations through dialogue, policy research and programs, and advocacy to find new ways of harnessing the Great Lakes region's economic strengths and assets, improving the well-being and livelihoods of the region's citizens, and protecting the environment for future generations. Visit CGLR on the Internet at https://councilgreatlakesregion.org/.
Contact
Claude Griffin
Program Director
US Business Council for Sustainable Development
griffin@usbcsd.org
Lora Shrake
Program Manager - Business and Sustainability
Council of the Great Lakes Region
lora@councilgreatlakesregion.org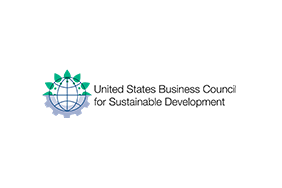 United States Business Council for Sustainable Development (USBCSD)
United States Business Council for Sustainable Development (USBCSD)
The US BCSD was founded in 1992 to give leading US businesses a platform to work together to design, implement and scale sustainability solutions. Today, the US BCSD's cross-sector platforms, projects and partnerships bring leading companies together to solve circular economy, carbon, energy and water challenges across North America. The US BCSD is a Global Network partner of the World Business Council for Sustainable Development.
More from United States Business Council for Sustainable Development (USBCSD)