Supporting Chicago's Invest South/West initiative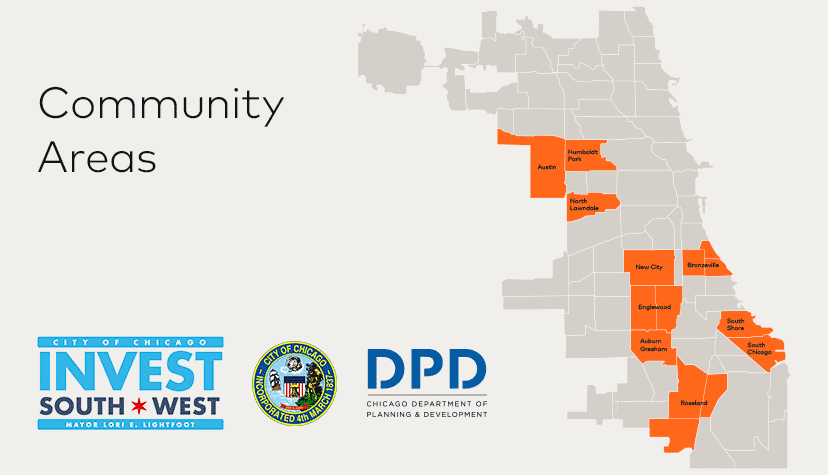 The insights can also help place-based development identify and validate basic and essential services that residents need and want in underserved neighborhoods. As part of the Center's efforts to advance data science for social impact, a volunteer team of data analysts and consultants collaborated with Chicago's Department of Planning and Development for a deep dive into consumer spending trends in the 10 neighborhoods that are a part of the city's Invest South/West initiative.
The city-led initiative is investing $750 million in these largely Black and Latinx low-income neighborhoods to bring needed supports, housing and services as well as to jumpstart private-sector investments.
With input from community and business members, we analyzed spending data before and during the pandemic in each of the community areas, breaking out spending by essential and nonessential goods and services.
South/West neighborhoods see far more spending on essential items
Even before the pandemic, about half of the spending in South/West neighborhoods appears to have been devoted to essentials like groceries, autos and general merchandise (Chart 2). In contrast, citywide only about 20 percent of total spending went to essential items. As the chart shows, spending in restaurants and food services in South/West neighborhoods was much lower.
South/West communities drew more local spending after COVID-19 struck
When the pandemic hit, spending in the Invest South/West neighborhoods didn't as much decline as redistribute. Spending in three of the South/West neighborhoods increased (see map) while in four other communities, spending was unchanged. In contrast, the more affluent neighborhoods along the North Lakefront saw sharp declines as restaurants and leisure options shuttered.
Pandemic-induced savings mean more spending for other essentials
A more detailed look at spending in four South/West neighborhoods indicates that savings on auto fuel and other pandemic-affected categories seems to have been diverted to essentials.
Each of the four communities saw a spike in spending on electronics, likely as schools closed and students went online. Chicago Public Schools distributed laptops to students but the need outweighed supplies.  Grocery stores saw a jump as well, particularly in Englewood, where spending rose 61 percent. Many families received a pre-loaded debit card for food from schools in lieu of the free and reduced lunches, which could have contributed to the jump in groceries—as well as pandemic-induced buying. Restaurant spending ("food") and gas plunged in the meantime, which is to be expected as work-from-home orders went into effect and restaurants closed.
Supporting communities with tailored, timely data-driven insights
Overall, the analysis suggests that families in the South/West neighborhoods focus their spending on essentials and are leaving their neighborhoods to shop.  The pattern of spending speaks to both demand and the types of stores that could thrive in these neighborhoods.
A better understanding of the financial lives and spending patterns of lower-income families can help public- and private-sector entities help ensure investments meet local needs. By creating more robust neighborhoods, cities can also help lower the cost of living for families and give them back the time lost at great cost to themselves.
Michelle Thompson is a senior data fellow with the Center and associate professor at the University of New Orleans, Department of Planning and Urban Studies; Ed Lee is manager of data science for the Center; and Barbara Ray is a Chicago-based writer who writes about social policy and research.