Published 09-07-21
Submitted by Fifth Third Bancorp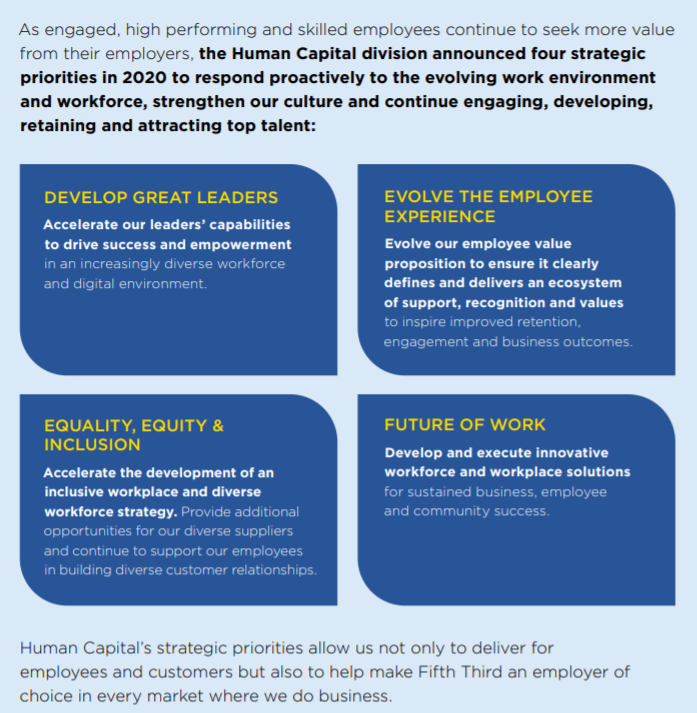 As engaged, high performing and skilled employees continue to seek more value from their employers, the Human Capital division of Fifth Third Bank announced four strategic priorities in 2020 to respond proactively to the evolving work environment and workforce, strengthen our culture and continue engaging, developing, retaining and attracting top talent:
DEVELOP GREAT LEADERS Accelerate our leaders' capabilities to drive success and empowerment in an increasingly diverse workforce and digital environment.
EVOLVE THE EMPLOYEE EXPERIENCE Evolve our employee value proposition to ensure it clearly defines and delivers an ecosystem of support, recognition and values to inspire improved retention, engagement and business outcomes.
EQUALITY, EQUITY & INCLUSION Accelerate the development of an inclusive workplace and diverse workforce strategy. Provide additional opportunities for our diverse suppliers and continue to support our employees in building diverse customer relationships.
FUTURE OF WORK Develop and execute innovative workforce and workplace solutions for sustained business, employee and community success.
Human Capital's strategic priorities allow Fifth Third not only to deliver for employees and customers but also to help make Fifth Third an employer of choice in every market where it does business.
For more information on how the Bank engages, develops, retains and attracts its employee base, read the Fifth Third 2020 Environmental, Social and Governance Report. The Employees section begins on page 70.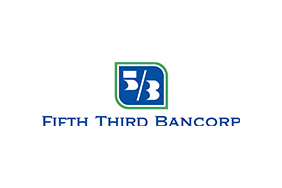 Fifth Third Bancorp
Fifth Third Bancorp
Fifth Third Bancorp is a diversified financial services company headquartered in Cincinnati, Ohio and the indirect parent company of Fifth Third Bank, National Association, a federally chartered institution. As of Dec. 31, 2021, Fifth Third had $211 billion in assets and operated 1,117 full-service banking centers and 2,322 ATMs with Fifth Third branding in Ohio, Kentucky, Indiana, Michigan, Illinois, Florida, Tennessee, West Virginia, Georgia and North Carolina. In total, Fifth Third provides its customers with access to approximately 54,000 fee-free ATMs across the United States. Fifth Third operates four main businesses: Commercial Banking, Branch Banking, Consumer Lending and Wealth & Asset Management. Investor information and press releases can be viewed at www.53.com. Fifth Third's common stock is traded on the Nasdaq® Global Select Market under the symbol "FITB." Fifth Third Bank was established in 1858. Deposit and Credit products are offered by Fifth Third Bank, National Association. Member FDIC.
Fifth Third's Purpose is to improve lives and the well-being of its communities by being the One Bank people most value and trust. The Company believes in doing well by doing good and delivering long-term sustainable value to all its stakeholders. Fifth Third is focused on five environmental, social and governance priorities: keeping the customer at the center, demonstrating its commitment to employees, strengthening its communities, promoting inclusion and diversity, and addressing climate change.
More from Fifth Third Bancorp