Published 09-02-21
Submitted by Fifth Third Bancorp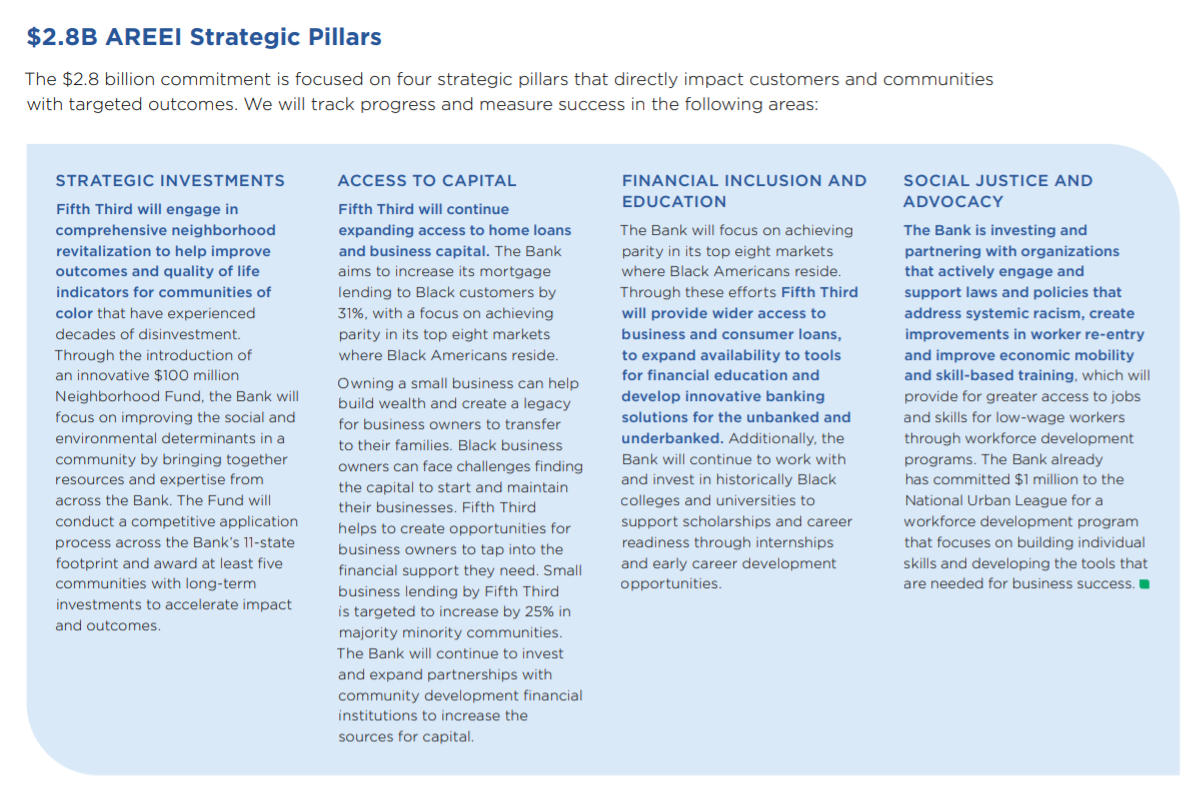 Fifth Third Bancorp's $2.8 billion Accelerating Racial Equality, Equity and Inclusion initiative is focused on four strategic pillars that directly impact customers and communities with targeted outcomes. We will track progress and measure success in the following areas:
STRATEGIC INVESTMENTS
Fifth Third will engage in comprehensive neighborhood revitalization to help improve outcomes and quality of life indicators for communities of color that have experienced decades of disinvestment. Through the introduction of an innovative $100 million Neighborhood Fund, the Bank will focus on improving the social and environmental determinants in a community by bringing together resources and expertise from across the Bank. The Fund will conduct a competitive application process across the Bank's 11-state footprint and award at least five communities with long-term investments to accelerate impact and outcomes.
ACCESS TO CAPITAL
Fifth Third will continue expanding access to home loans and business capital. The Bank aims to increase its mortgage lending to Black customers by 31%, with a focus on achieving parity in its top eight markets where Black Americans reside. Owning a small business can help build wealth and create a legacy for business owners to transfer to their families. Black business owners can face challenges finding the capital to start and maintain their businesses. Fifth Third helps to create opportunities for business owners to tap into the financial support they need. Small business lending by Fifth Third is targeted to increase by 25% in majority minority communities. The Bank will continue to invest and expand partnerships with community development financial institutions to increase the sources for capital.
FINANCIAL INCLUSION AND EDUCATION
The Bank will focus on achieving parity in its top eight markets where Black Americans reside. Through these efforts Fifth Third will provide wider access to business and consumer loans, to expand availability to tools for financial education and develop innovative banking solutions for the unbanked and underbanked. Additionally, the Bank will continue to work with and invest in historically Black colleges and universities to support scholarships and career readiness through internships and early career development opportunities.
SOCIAL JUSTICE AND ADVOCACY
The Bank is investing and partnering with organizations that actively engage and support laws and policies that address systemic racism, create improvements in worker re-entry and improve economic mobility and skill-based training, which will provide for greater access to jobs and skills for low-wage workers through workforce development programs. The Bank already has committed $1 million to the National Urban League for a workforce development program that focuses on building individual skills and developing the tools that are needed for business success.
More about Fifth Third's AREEI initiative can be found in its 2020 Environmental, Social and Governance Report beginning on page 57.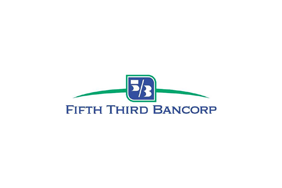 Fifth Third Bancorp