Published 09-01-21
Submitted by Cool Effect
As evidenced by the most recent report from the Intergovernmental Panel on Climate Change (IPCC), immediate and collective action is paramount to address our current climate crisis. Businesses continue to step up and take accountability for their emissions and incorporate sustainable programs across their organizations but often wonder if their programs are truly making a difference.
Once a business has calculated its carbon footprint and taken steps to reduce it, they begin to look for ways to account for those that are unabatable. Some industries are working to develop new resources such as sustainable aviation fuel or more efficient engines. Others are reviewing policies on travel, waste and employee programs such as commuting. However, all businesses still have gaps where emissions are necessary despite reductions. One tangible and impactful step is to purchase high-quality carbon offsets to compensate for those that cannot be reduced. Not only does this help a business neutralize its emissions, but it provides critical funding to local communities.
When a company considers purchasing carbon offsets, it is crucial that they focus on the most highly effective projects that demonstrate a true carbon benefit, pricing transparency, and secondary benefits. After that, selecting the offsets that fit best for business objectives often comes down to three key elements: project location, corporate mission alignment, and price.
Project Location
High-quality carbon reduction projects exist all over the globe - from projects in the U.S. to those in the most remote locations of India, there are communities from many walks of life and diverse backgrounds that are benefiting from carbon reduction projects.
An organization may choose to support a project due to its location for a number of reasons. For example, Airspace, an AI-powered time critical logistics platform, partnered with Cool Effect to support 'Cup of the Amazon' because it aligns with the company's initiative to reward a team member who demonstrates the company's core values with a trip to the Amazon. A business may also choose to support a project where they are based. For example, in effort to become carbon neutral, Dickinson College, partnered with Cool Effect to help fund a carbon sequestration project - 'Home of the Raptors' - located just 80 miles from its campus in Pennsylvania. Businesses often look for geographical ties to a project because of supply chain or product sourcing, customers, location of remote colleagues or travel.
While Earth doesn't care where carbon is reduced, a business might. Selecting a project based on its location can be a way for an organization to instill a connection between its efforts to account for environmental impact and the visible, real benefit occurring in a particular place across the globe.
Corporate Mission Alignment
Another consideration when selecting the right offsets for your business is mission alignment. Each carbon reduction project promotes a unique cause - from fighting deforestation, preserving coastlines and waterways, and preventing animal extinction, to providing clean air so that families can breathe easier, or a reliable source of electricity so that children can advance their education. This diversity of causes and project benefits provides organizations an opportunity to choose carbon offsets that align with their organization's individual purpose or mission.
For example, Cool Effect's partner TUSHY - a bidet attachment company - is committed to reducing the environmental impact associated with using the restroom and works with Cool Effect to further its efforts to make bathroom trips more sustainable and reduce paper waste. The company funds three uniquely 'TUSHY' projects through Cool Effect, including the 'Better Use for Pig Poo' project which turns swine waste into useful compost, as well as two projects that prevent deforestation - 'Owners of the Amazon' in Brazil and 'Cup of the Amazon' in Peru.
Cool Effect's VP, Director of Marketing & Partnerships, Jodi Manning, noted "Selecting a project based on mission alignment is a wonderful way for an organization to amplify its brand purpose. I'm always so inspired by the impact of a truly unique carbon project. Even a project focused primarily on sustainable forest management can provide microfinancing for women and better health conditions for children. This gives businesses the opportunity to support their corporate mission while also reducing harmful emissions."
Price
The final indicator when determining what carbon reduction project to support is pricing. As with any other area of business, sustainability leaders must determine where they feel their budget is best allocated based on a range of criteria, and they want to know that their dollar is making a difference.
The price of a carbon credit varies depending on a number of elements, including the location of the project, the type of project, supply and demand, secondary benefits, and the age of the credit. It's important to look for providers that offer full transparency in pricing, so that an organization can understand exactly how much of their donation is going directly to the project. Demonstrated by The Seller's Pledge, Cool Effect has committed to full pricing transparency with over 90% of each donation going directly to carbon reduction projects.
Ultimately, selecting the carbon offsets that fit best for a business can vary based on its individual objectives. No matter which high-quality carbon reducing projects you choose to support, planet and people will benefit from your commitment to sustainability.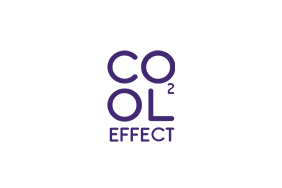 Cool Effect
Cool Effect
Cool Effect is a San Francisco Bay Area 501(c)(3) nonprofit dedicated to reducing carbon emissions around the world by allowing individuals, businesses, organizations and universities to create a tangible impact on climate change by funding the highest quality carbon reduction projects that are verifiably and measurably reducing global warming emissions. The organization was founded by Dee and Richard Lawrence on their passionate belief that support of carbon offset projects will create a cumulative effect that will reduce and prevent carbon pollution. Like the Butterfly Effect, The Ripple Effect, and others, a single action can have global impact.
More from Cool Effect