Published 08-27-21
Submitted by Fifth Third Bancorp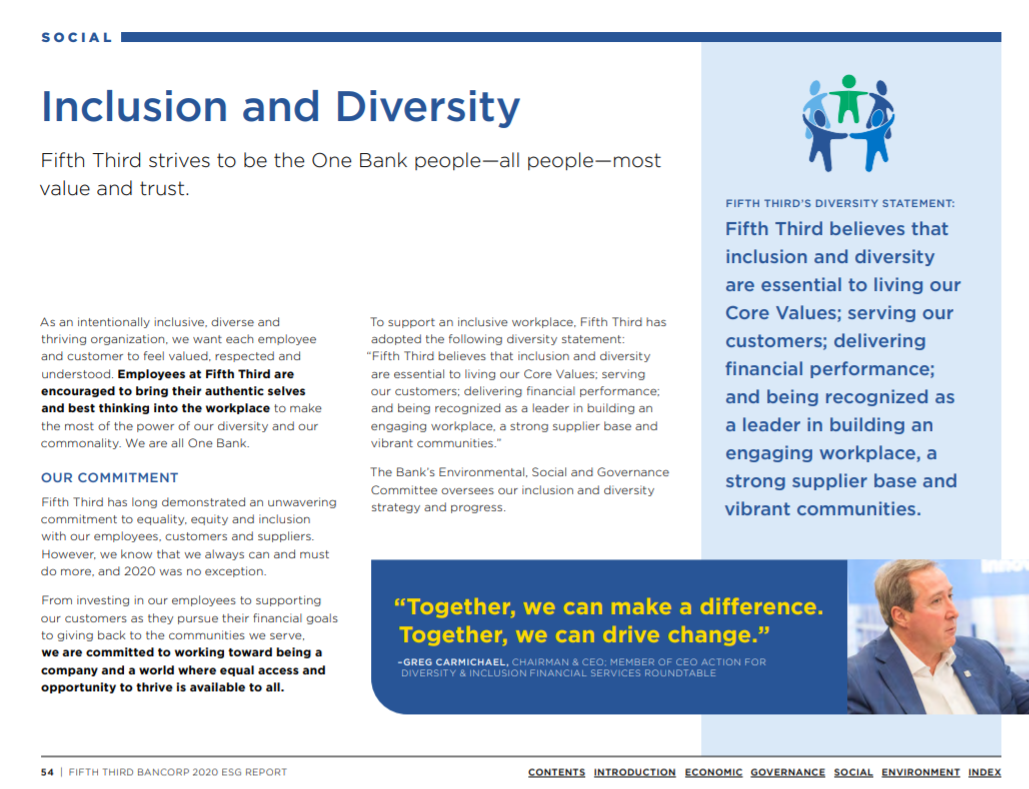 Fifth Third strives to be the One Bank people—all people—most value and trust. As an intentionally inclusive, diverse and thriving organization, we want each employee and customer to feel valued, respected and understood. Employees at Fifth Third are encouraged to bring their authentic selves and best thinking into the workplace to make the most of the power of our diversity and our commonality. We are all One Bank.
OUR COMMITMENT
Fifth Third has long demonstrated an unwavering commitment to equality, equity and inclusion with our employees, customers and suppliers. However, we know that we always can and must do more, and 2020 was no exception.
From investing in our employees to supporting our customers as they pursue their financial goals to giving back to the communities we serve, we are committed to working toward being a company and a world where equal access and opportunity to thrive is available to all.
To support an inclusive workplace, Fifth Third has adopted the following diversity statement: "Fifth Third believes that inclusion and diversity are essential to living our Core Values; serving our customers; delivering financial performance; and being recognized as a leader in building an engaging workplace, a strong supplier base and vibrant communities."
The Bank's Environmental, Social and Governance Committee oversees our inclusion and diversity strategy and progress.
In 2020, Fifth Third sharpened its focus and actions to deepen its commitment to foster inclusion and diversity, inspire positive change and confront systemic racism. Accelerating Racial Equality, Equity and Inclusion is one of four strategic initiatives for the Human Capital division of Fifth Third Bank. The initiative is led by the Inclusion and Diversity team and supported by the Executive Diversity Leadership Council, which was created in 2020.
For the fifth consecutive year, Fifth Third in 2020 was awarded a score of 100% on the Corporate Equality Index, the nation's premier benchmarking survey and report on corporate policies and practices related to LGBT workplace equality, administered by the Human Rights Campaign Foundation. Fifth Third joined the ranks of more than 680 major U.S. businesses that also earned a top score of 100 in 2020 and the distinction of Best Places to Work for LGBTQ Equality.
We also were named for the first time as one of the best places to work for people with disabilities as part of the 2020 Disability Equality Index, the nation's most comprehensive benchmarking tool for disability inclusion. These honors demonstrate our commitment to cultivating an inclusive workforce that can effectively serve a diverse customer base and all communities.
Read the full Inclusion & Diversity section of Fifth Third Bancorp's ESG Report.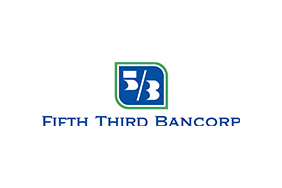 Fifth Third Bancorp
Fifth Third Bancorp
Fifth Third Bancorp is a diversified financial services company headquartered in Cincinnati, Ohio and the indirect parent company of Fifth Third Bank, National Association, a federally chartered institution. As of Dec. 31, 2021, Fifth Third had $211 billion in assets and operated 1,117 full-service banking centers and 2,322 ATMs with Fifth Third branding in Ohio, Kentucky, Indiana, Michigan, Illinois, Florida, Tennessee, West Virginia, Georgia and North Carolina. In total, Fifth Third provides its customers with access to approximately 54,000 fee-free ATMs across the United States. Fifth Third operates four main businesses: Commercial Banking, Branch Banking, Consumer Lending and Wealth & Asset Management. Investor information and press releases can be viewed at www.53.com. Fifth Third's common stock is traded on the Nasdaq® Global Select Market under the symbol "FITB." Fifth Third Bank was established in 1858. Deposit and Credit products are offered by Fifth Third Bank, National Association. Member FDIC.
Fifth Third's Purpose is to improve lives and the well-being of its communities by being the One Bank people most value and trust. The Company believes in doing well by doing good and delivering long-term sustainable value to all its stakeholders. Fifth Third is focused on five environmental, social and governance priorities: keeping the customer at the center, demonstrating its commitment to employees, strengthening its communities, promoting inclusion and diversity, and addressing climate change.
More from Fifth Third Bancorp