Published 08-20-21
Submitted by Fifth Third Bancorp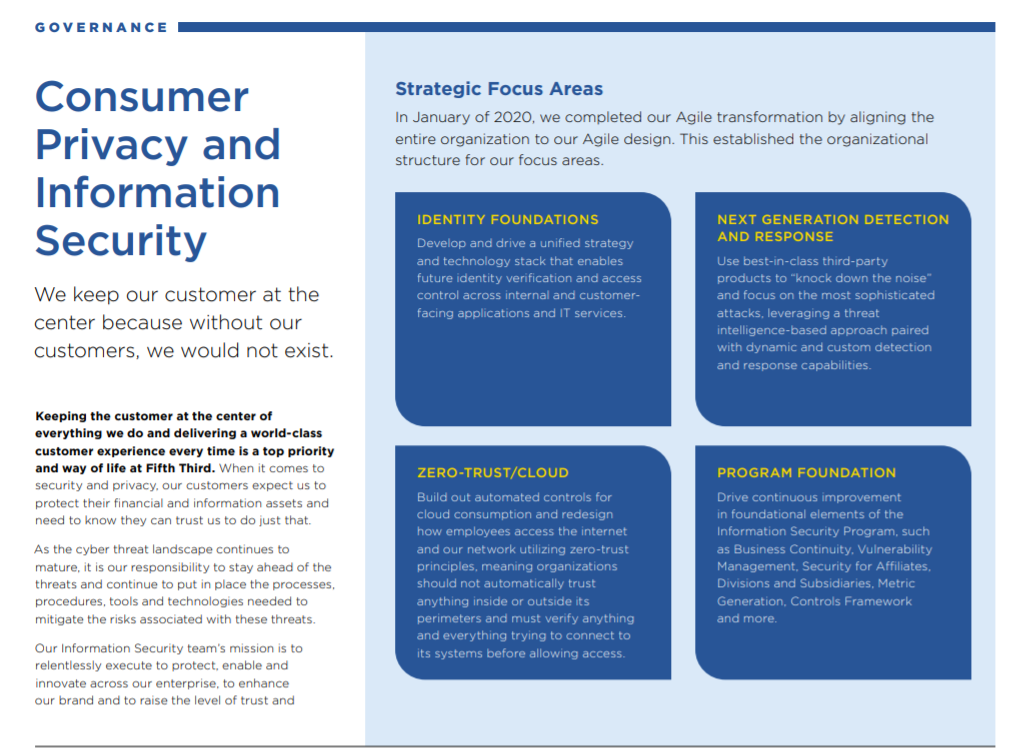 The following content can be found on page 41 of the Fifth Third Bancorp 2020 Environmental, Social and Governance Report.
We keep our customer at the center because without our customers, we would not exist. Keeping the customer at the center of everything we do and delivering a world-class customer experience every time is a top priority and way of life at Fifth Third. When it comes to security and privacy, our customers expect us to protect their financial and information assets and need to know they can trust us to do just that.
As the cyber threat landscape continues to mature, it is our responsibility to stay ahead of the threats and continue to put in place the processes, procedures, tools and technologies needed to mitigate the risks associated with these threats.
Our Information Security team's mission is to relentlessly execute to protect, enable and innovate across our enterprise, to enhance our brand and to raise the level of trust and confidence of our customers and partners. We strive to understand cyber threat adversaries and the risks they pose. Our adversaries are nimble and dynamic. To protect against them, our defenses must be the same.
TRANSFORMATION PATH TO STRATEGIC FOCUS
In January of 2020, we completed our Agile transformation by aligning the entire organization to our Agile design. This established the organizational structure upon which we focused on Program Foundations, Identity Foundations, Next Generation Detection and Response, and Zero-Trust/Cloud.
Despite the impacts of the COVID-19 pandemic, the team was still able to move forward on these areas of strategic focus by:
Revamping the vulnerability management reporting capabilities and process to ensure teams were provided appropriate information to prioritize risk
Managing the technology lifecycle of identity related products to better align with our strategic direction
Moving to a threat intelligence-driven process that allows our detection and response teams to focus on the most advanced attackers
Continuing to mature our security in cloud and zero-trust network access solutions
The hard work and continuous planning and preparation of the Business Continuity Team was highlighted in 2020, as they guided us through not only the pandemic and all its implications, but also a record hurricane season and civil unrest. The Bank also has a cybersecurity incident response plan that addresses cybersecurity events that impact data or operations of the Bank. The plan is aligned with our business continuity crisis management plan as well as our escalation procedures for sensitive information, which is overseen by the Bank's Privacy Office.
PRIVACY AND DATA SECURITY
The Bank has established a strong foundation of governance, policies and procedures based on a tight alignment with regulatory requirements and standard frameworks such as National Institute of Standards and Technology and Control Objectives for Information Technologies. This foundation, combined with regular program assessments by outside organizations, keeps the Information Security team more alert to cyber risk, more deliberate in building dynamic defenses to protect our customers and the Bank, and more collaborative in exploring effective solutions with both internal and external partners.
Fifth Third also is committed to protecting our customers through our privacy policies. These policies describe the information we collect, the information customers provide when using our products and services, and information about when customers can choose to limit data sharing based on state, federal and international regulations. Details of our commitment to privacy and data security can be found on 53.com on our Privacy and Security page.
Continue reading this section of the Bank's ESG Report at 53.com.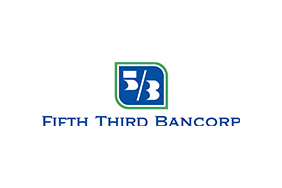 Fifth Third Bancorp
Fifth Third Bancorp
Fifth Third Bancorp is a diversified financial services company headquartered in Cincinnati, Ohio and the indirect parent company of Fifth Third Bank, National Association, a federally chartered institution. As of Dec. 31, 2021, Fifth Third had $211 billion in assets and operated 1,117 full-service banking centers and 2,322 ATMs with Fifth Third branding in Ohio, Kentucky, Indiana, Michigan, Illinois, Florida, Tennessee, West Virginia, Georgia and North Carolina. In total, Fifth Third provides its customers with access to approximately 54,000 fee-free ATMs across the United States. Fifth Third operates four main businesses: Commercial Banking, Branch Banking, Consumer Lending and Wealth & Asset Management. Investor information and press releases can be viewed at www.53.com. Fifth Third's common stock is traded on the Nasdaq® Global Select Market under the symbol "FITB." Fifth Third Bank was established in 1858. Deposit and Credit products are offered by Fifth Third Bank, National Association. Member FDIC.
Fifth Third's Purpose is to improve lives and the well-being of its communities by being the One Bank people most value and trust. The Company believes in doing well by doing good and delivering long-term sustainable value to all its stakeholders. Fifth Third is focused on five environmental, social and governance priorities: keeping the customer at the center, demonstrating its commitment to employees, strengthening its communities, promoting inclusion and diversity, and addressing climate change.
More from Fifth Third Bancorp