Published 07-06-21
Submitted by Fifth Third Bancorp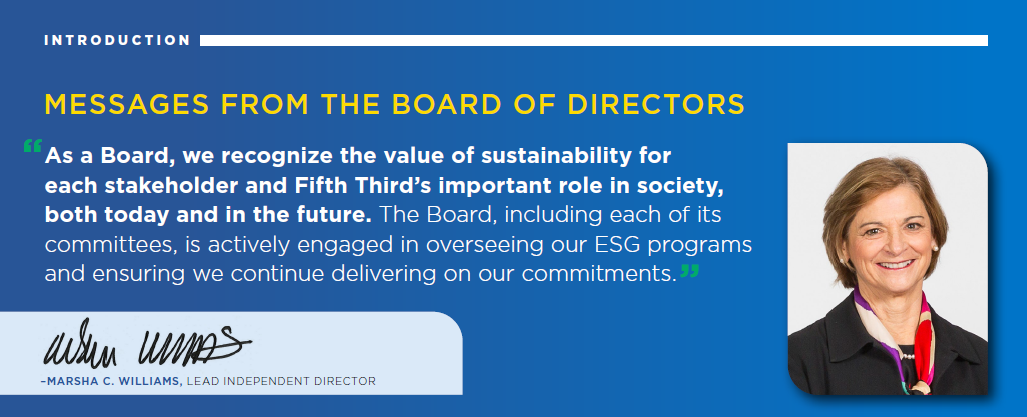 Fifth Third's 2020 Environmental, Social and Governance Report includes Messages from the Board of Directors along with a letter from Chairman & CEO Greg Carmichael. Read them in the report and below.
"As a Board, we recognize the value of sustainability for each stakeholder and Fifth Third's important role in society, both today and in the future. The Board, including each of its committees, is actively engaged in overseeing our ESG programs and ensuring we continue delivering on our commitments."

--Marsha C. Williams, lead independent director
"We believe that a strong corporate governance program is the foundation for a sustainable and well-governed company. We are committed to being a top quartile bank among peers in ESG practices and performances."

--Nicholas K. Akins, chair, Nominating & Corporate Governance Committee
"Our focus on effective risk management allows us to provide better solutions for our customers while ensuring regulatory excellence and driving strong and steady performance through the cycle."

--Emerson L. Brumback, chair, Risk & Compliance Committee
"With oversight of Fifth Third's policies, procedures and controls that foster accountability and transparency, the Audit Committee is committed to ensuring Fifth Third remains the One Bank people most value and trust."

--Eileen A. Mallesch, chair, Audit Committee

 
"We believe an engaged workforce is one of our most valuable assets and are focused on attracting, retaining and developing our employees while creating a diverse and inclusive culture that inspires innovation and enables people to thrive."

--Michael B. McCallister, chair, Human Capital & Compensation Committee
"Our focus on generating sustainable value for all our stakeholders guides us in our strategic and financial planning processes and remains a top priority for Fifth Third."

--Gary R. Heminger, chair, Finance Committee

 
"Our customers trust us to protect their financial and information assets. Overseeing our technology and innovation strategies allows us to meet their needs while continuing to earn their trust."

--Jorge Benitez, chair, Technology Committee
Read the full Fifth Third 2020 Environmental, Social and Governance Report.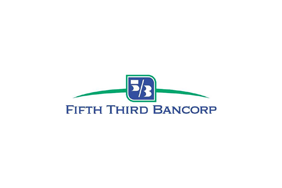 Fifth Third Bancorp