Published 06-28-21
Submitted by Fifth Third Bancorp
June is the anniversary of the 1969 Stonewall riots in New York City, a tipping point of the gay rights movement in the United States. As part of marking what has become known as Pride Month, four Fifth Third Bank employees share their stories as members and allies of the community.
Brandi Craig, senior vice president and Treasury Management area manager, Indianapolis
As a leader of Commercial treasury sales professionals in Indiana, Brandi helps Bank customers' businesses thrive through the use of our Treasury Management solutions. She also is the executive advocate of the region's LGBT+ Business Resource Group.
"Encouraging and supporting each other, despite our differences, is what makes the world a better place," Brandi said. "When we empower and create safe environments for each other, we have the opportunity to learn and grow to form a diverse, cohesive, engaged culture that creates positive and sustainable change."
While many Pride Month events are still virtual this year, Brandi points out that people still have many opportunities to get involved.
"I encourage everyone to check out just one event to celebrate, learn and appreciate each other, no matter where you live," Brandi said. "You won't be disappointed, and our communities will benefit."
Beryl Kirchen, Treasury Management clientCARE advisor, South Florida
The history of Pride Month inspires Beryl, who leads the LGBT+ committee as part of the Multicultural BRG in South Florida.
"The Stonewall riots became a catalyst for increased awareness and visibility for the LGBT+ community, and it also led multiple marginalized communities – like people of color and women – to band together to fight for equal rights," Beryl said. "It was because of the combined efforts of these minority communities that the United States began to move toward equality and away from discrimination."
While there is still a way to go, Pride Month provides a time of visibility for the LGBT+ community and a way for others to show their support and allyship.
"The Bank's commitment to inclusion and diversity can be felt through the many BRGs across our footprint," Beryl said. "I challenge and encourage all employees to seek out the BRGs and become members because allyship is vital to acceptance."
Tom Merchant, senior vice president and HR business partner, Chicago
"It's important that we share our stories with our co-workers and friends," Tom said. "I started my career at a time when there was shame and isolation in being gay, as well as a fear of losing one's job. While a lot has changed, we need to light the way for those who are at the beginning of their journeys, whether they are just coming out, transitioning or have a family member who is. Sharing your story and letting people know you support them is so important to creating a better community, culture and place to work."
Fifth Third Bank actively promotes inclusion and diversity through 64 regional business resource groups overseen by inclusion councils in each of the Bank's 13 regions and through eight virtual Enterprise business resource groups led by Enterprise committee executives. More than 3,700 employees take part in the in-person regional BRGs.
Fifth Third's BRGs are focused on fostering employees, the Bank's reputation, and a work environment and culture that supports engagement and inclusion. BRGs are open to all Fifth Third employees, whether they're members of the group's constituency or allies.
In June, the LGBT+ BRGs across the Bank's footprint will celebrate Pride in a variety of ways, including scavenger hunts, parades and more. Here is some of what's in store:
Central Ohio BRG members will participate in the virtual Stonewall Columbus Pride event and host a Zoom game night for all Central Ohio Bank employees.
Chicago BRG members will host a Company-wide virtual Pride celebration to provide our employees with an opportunity to share their thoughts on why Pride is important to them. The group will also participate in the annual Chicao Pride parade in October. 
The Cincinnati BRG will engage in a city hall flag-raising cermony, a scavenger hunt, a mask giveaway and a conversation with executives from companies in the city.
Georgia BRG members will participate in weekly trivia with prizes and attend a celebratory happy hour.
The Indiana BRG is hosting several educational sessions and events including a discussion about ballroom culture, a collaborative celebration that honors Shabat and Pride and a Drive-In movie night and a virtual dance party.
The Northern Ohio BRG will participate in the Pride in the CLE: Pride Ride where members will decorate their cars, bikes, trucks, and vans in a parade.
To learn more about Fifth Third's inclusion and diversity efforts, please visit www.53.com/diversity.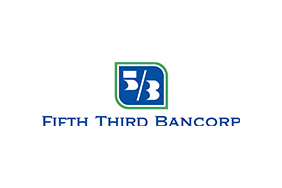 Fifth Third Bancorp
Fifth Third Bancorp
Fifth Third Bancorp is a diversified financial services company headquartered in Cincinnati, Ohio and the indirect parent company of Fifth Third Bank, National Association, a federally chartered institution. As of Dec. 31, 2021, Fifth Third had $211 billion in assets and operated 1,117 full-service banking centers and 2,322 ATMs with Fifth Third branding in Ohio, Kentucky, Indiana, Michigan, Illinois, Florida, Tennessee, West Virginia, Georgia and North Carolina. In total, Fifth Third provides its customers with access to approximately 54,000 fee-free ATMs across the United States. Fifth Third operates four main businesses: Commercial Banking, Branch Banking, Consumer Lending and Wealth & Asset Management. Investor information and press releases can be viewed at www.53.com. Fifth Third's common stock is traded on the Nasdaq® Global Select Market under the symbol "FITB." Fifth Third Bank was established in 1858. Deposit and Credit products are offered by Fifth Third Bank, National Association. Member FDIC.
Fifth Third's Purpose is to improve lives and the well-being of its communities by being the One Bank people most value and trust. The Company believes in doing well by doing good and delivering long-term sustainable value to all its stakeholders. Fifth Third is focused on five environmental, social and governance priorities: keeping the customer at the center, demonstrating its commitment to employees, strengthening its communities, promoting inclusion and diversity, and addressing climate change.
More from Fifth Third Bancorp