Published 06-03-21
Submitted by Fifth Third Bancorp
As part of its commitment to be a leader in sustainability, Fifth Third Bank recently joined the Ceres Company Network. By joining, Fifth Third has become part of a network of 60 companies who commit to achieving robust sustainability goals, improving resiliency in their operations and supply chains, and advancing market-based and equitable solutions to the world's biggest sustainability challenges.
"Joining the Ceres Company Network is another major step forward in our commitment to lead among regional banks in transitioning to a more sustainable future," said Fifth Third Chairman and CEO Greg D. Carmichael. "It will be a privilege to work with many of the world's most sustainable companies as we tackle the problems we face, and, together, work to fully realize the potential we have to positively impact our planet and its people."   
Learn more about Fifth Third's commitments through the Ceres Company Network
About Fifth Third
Fifth Third Bancorp is a diversified financial services company headquartered in Cincinnati, Ohio, and the indirect parent company of Fifth Third Bank, National Association, a federally chartered institution. As of March 31, 2021, Fifth Third had $207 billion in assets and operated 1,098 full-service banking centers and 2,383 ATMs with Fifth Third branding in Ohio, Kentucky, Indiana, Michigan, Illinois, Florida, Tennessee, West Virginia, Georgia, North Carolina and South Carolina. In total, Fifth Third provides its customers with access to approximately 53,000 fee-free ATMs across the United States. Fifth Third operates four main businesses: Commercial Banking, Branch Banking, Consumer Lending and Wealth & Asset Management. Fifth Third is among the largest money managers in the Midwest and, as of March 31, 2021, had $464 billion in assets under care, of which it managed $58 billion for individuals, corporations and not-for-profit organizations through its Trust and Registered Investment Advisory businesses. Investor information and press releases can be viewed at www.53.com. Fifth Third's common stock is traded on the Nasdaq® Global Select Market under the symbol "FITB." Fifth Third Bank was established in 1858. Deposit and Credit products are offered by Fifth Third Bank, National Association. Member FDIC.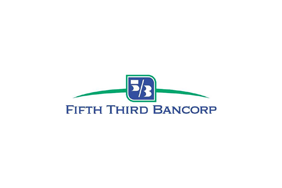 Fifth Third Bancorp