Published 06-02-21
Submitted by Alliant Energy Corporation
Alliant Energy 2020 Corporate Responsibility Report
At Alliant Energy we are implementing our strategic plan to create a more sustainable future for our customers and communities.
Highlights of our recent progress in 2020 are provided below:
Goal: By 2030, reduce our fossil fuel generation carbon dioxide (CO2) emissions by 50% from 2005 levels
Progress: Achieved 42% CO2 reduction in 2020
Goal: By 2040, eliminate all coal from our generation fleet
Progress:
Over 1,100 megawatts of coal already retired
Additional 1,300 megawatts to retire by end of 2024
Combined, this represents a reduction of nearly 70% from our 2005 coal footprint nameplate capacity
Goal: By 2030, reduce our fossil fuel generation water supply by 75% from 2005 levels Progress: Achieved 69% water reduction in 2020 Goal: By 2050, aspire to achieve net-zero CO2 emissions from the electricity we generate Progress: By 2030, over half of our energy resource portfolio will be carbon-free. Our strategy includes:
Sustainability highlights
Completed our plan to add 1,150 megawatts of wind production – expanding our owned and operated regulated wind capacity to nearly 1,800 megawatts.
Initiated plans to add nearly 1,500 megawatts of solar in Iowa and Wisconsin by the end of 2023 plus 100 megawatts of energy storage in Iowa by the end of 2026.
Announced retirement of Columbia Energy Center, enabling Alliant Energy's utility operations in Wisconsin to be coal-free by 2025.
Advanced our integrated grid initiatives to build smarter and more resilient energy infrastructure – with plans for future investments of $2.1 billion through 2024.
Announced a new goal to electrify 100% of our company-owned light-duty fleet vehicles by 2030.
Achieved our air emissions targets one-year early by reducing mercury 96%, sulfur dioxide 92% and nitrogen oxides 85% from 2005 levels.
Partnered to provide more than $8.7 million in community giving and 63,600 volunteer hours.
Focused on COVID-19 actions and expanding our Diversity, Equity and Inclusion initiatives.
Delivered on our company's purpose to serve customers and build strong communities – read more in our latest sustainability stories below!
Read Alliant Energy's full 2020 Corporate Responsibility Report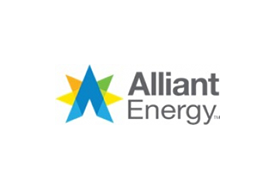 Alliant Energy Corporation
Alliant Energy Corporation
Alliant Energy Corporation (NASDAQ: LNT) provides regulated energy service to 965,000 electric and 415,000 natural gas customers across  Iowa  and  Wisconsin .  Alliant Energy's  mission is to deliver the energy solutions and exceptional service customers and communities count on – safely, efficiently and responsibly.  Interstate Power and Light Company  and  Wisconsin Power and Light Company  are  Alliant Energy's  two public energy companies.  Alliant Energy  is a component of the Nasdaq CRD Sustainability Index,  Bloomberg's  2019 Gender-Equality Index, and the  S&P  500. For more information, visit alliantenergy.com and follow us on LinkedIn, Facebook, Instagram and Twitter.
More from Alliant Energy Corporation