Published 04-22-21
Submitted by Qualcomm Inc.
Diversity drives innovation and sparks fresh thinking, creativity and breakthrough ideas that are the lifeblood of our business and our industry. To this end, we support STEM education programs that aim to increase diversity within STEM fields. Our programs have a strong focus on supporting women and underrepresented minorities. We implement many different programs in the communities where we live and work, with the objective of ensuring STEM education is accessible to all.
Qualcomm Aqriti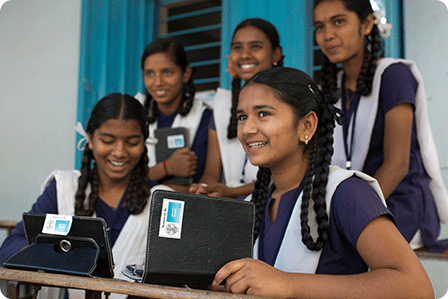 Qualcomm India, in association with United Way of Hyderabad and Swami Vivekananda Youth Movement, launched the Qualcomm® Aqriti™ community outreach program to provide underprivileged girls with increased access to STEM education and to address community perceptions of gender equality.
The program engages students and the community by doing the below:
Providing STEM labs and learning tools to help students understand concepts in science and mathematics
Providing technical mentorship and allied activities, such as coaching and soft skills training
Creating awareness with families and the community of the value of education for female students
Providing scholarships for top-performing girls pursuing STEM in higher education.
Since it's inception, Aqriti has impacted more than 56,000 children and more than 2,200 teachers across 278 schools in Hyderabad, Bangalore, Mumbai, and Chennai.
Promoting patent diversity with VentureWell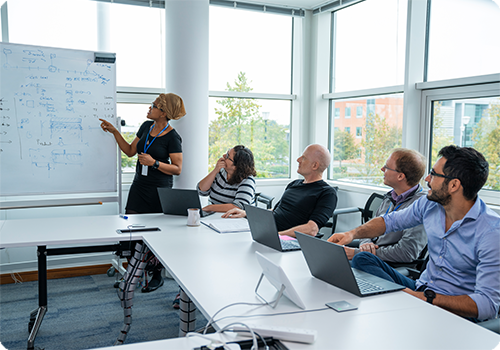 We believe that bringing talent and diversity together is the key to unleashing creativity, innovation and breakthrough technologies. As part of our efforts to grow the innovation economy, we're creating a pipeline of diverse inventors and patent holders.
We proudly supported VentureWell's E-Team grant program encouraging invention from under-represented students. VentureWell is a higher education network that helps cultivate the skills and creativity of university students, who are passionate about solving the world's biggest challenges and creating lasting impact. The E-Team program supports multidisciplinary, student-led teams who are aiming to bring their innovations out of the lab and into the market to create social, health or environmental impact. The training program which helps teams build confidence and advance their knowledge in essential topics like customer discovery, intellectual property, and business model validation. Teams network with their peers and learn from VentureWell's dedicated teaching team while working to bring inventions to market.
Preparing the next generation of inventors with Million Girls Moonshot.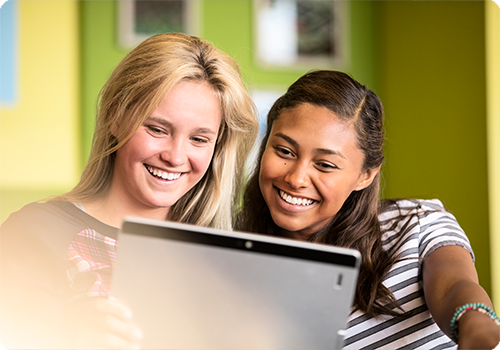 Million Girls Moonshot seeks to re-imagine who can engineer, who can build, who can make. It aims to inspire and prepare the next generation of innovators by engaging one million more girls in STEM learning opportunities through afterschool and summer programs over the next 5 years.
Qualcomm has supported the launch of Moonshot's transformative programming as an inaugural funder and visionary leader. In our role as a founding member of the initiative, we help create a coalition of like-minded organizations and individuals sharing our vision of STEM equity.
Moonshot also aligns with our Company's goal to increase diversity of talent in the STEM workforce pipeline. We will be able to deliver proven programming to more than a million underserved young people and educators, with a girls-centric focus and a focus on engineering and technology. We are also developing high-quality opportunities for Qualcomm employees to engage in hands-on, afterschool programming and serve as role models and mentors.
Her Future Tech Camp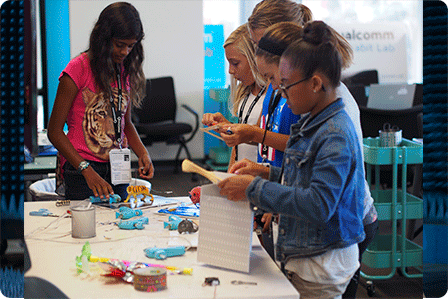 Her Future Tech Camp, a collaboration between our Company and Children & Youth Science Center of China Association of Science and Technology, aims to spark rural girls' interest in science and technology. Our Company has been sponsoring the participation of middle school girls and science teachers from underserved areas in China since the program's inception in 2016.
Students attending this week-long camp adventure learn scratch programming and build robotic crafts on an Arduino platform. Science teachers learn how to organize similar STEM activities for their own students.
Campers get to meet and engage with female engineers and scientists to learn why and how they chose STEM as their career path. They also get to visit the Qualcomm China office to learn more about our business culture and visit our engineering labs.
To date, Her Future Tech Camp has directly impacted 125 girls and 19 science teachers from 14 provinces throughout China.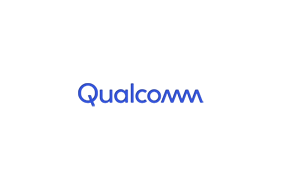 Qualcomm Inc.