Published 03-23-21
Submitted by International Paper Company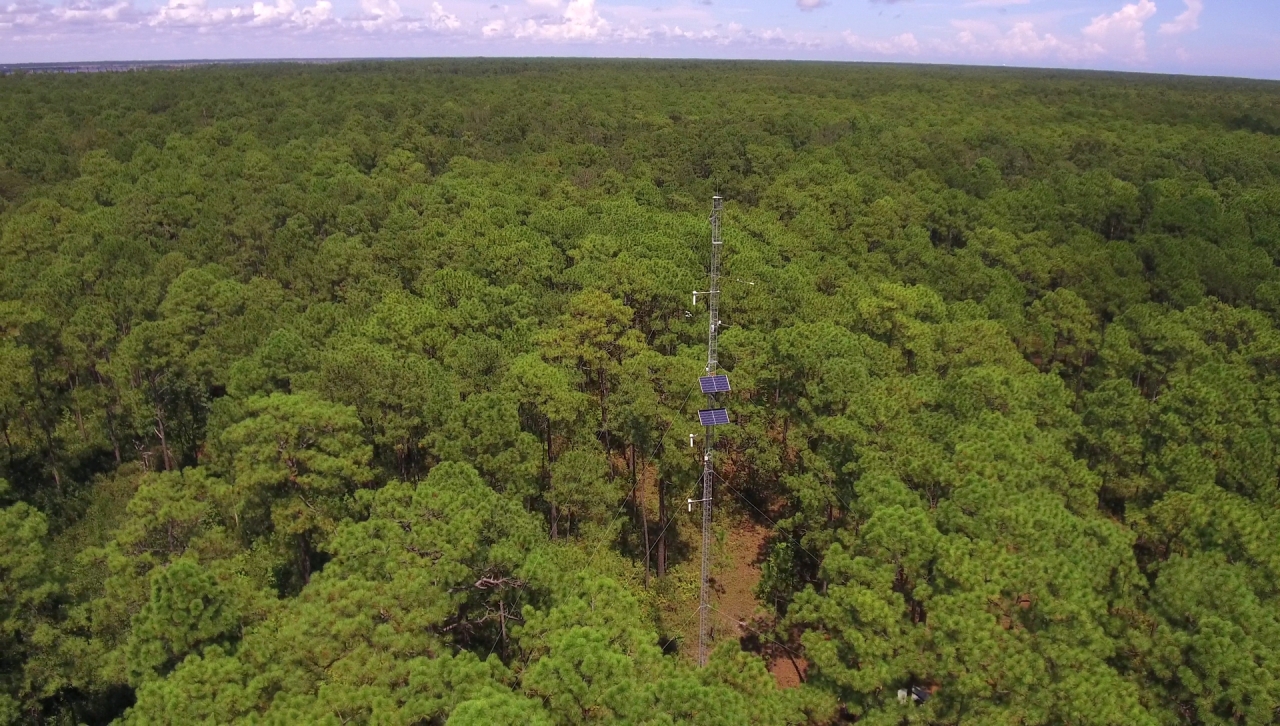 Researchers from Clemson University are using a 120-foot research tower to study the role of longleaf pines in carbon and water cycling in South Carolina. The tower measures the exchange of carbon, water, and energy between the Earth's surface and the atmosphere. The project's primary goal is to support the restoration of longleaf pine to its historic range.
Clemson is partnering with The Nature Conservancy (TNC) on the project, supported by a grant from the National Fish and Wildlife Foundation (NFWF) and funding from International Paper.
Tom O'Halloran, an assistant professor in Clemson's Forestry and Environmental Conservation Department, describes the rhythmic, cyclical interaction between the land and air as "conversations" that he can listen to when he climbs the tower. O'Halloran has been working with the tower for about three years to collect data on carbon and water cycling in the longleaf forest.
The resulting data on carbon and longleaf could help landowners, forest managers and conservation practitioners better quantify the potential carbon outcomes of planting and managing longleaf pine and realize opportunities to tap into carbon markets. Making the case that longleaf pine forests are as effective, or possibly even better, at sequestering carbon as compared to other forest types could be a win-win for the longleaf ecosystem and efforts to mitigate the impacts of climate change on wildlife and communities.  This project is especially timely as an array of corporations and other organizations are interested in offsetting their carbon emissions, which is opening up tremendous opportunities for carbon markets.
The research proposes to help make deeper connections with longleaf pine, carbon capture, and landowner education to increase demand from private landowners to plant longleaf and ultimately result in more longleaf forests on private lands. Twenty-five landowners will take part in a workshop to help them make management decisions with the aim of fitting into carbon markets and generating revenue from their land.
The longleaf pine ecosystem once covered more than 90 million acres, from Virginia to Texas. Unique to the southeastern United States, this ecosystem contains a stunning diversity of plants and animals, including rare and endangered wildlife like the indigo snake, red-cockaded woodpecker, and gopher tortoise. Unfortunately, less than five percent of the original acreage remains, and threatened and endangered species that depend on the habitat struggle to survive.
The pilot project will measure the rate of ecosystem carbon sequestration in a newly restored longleaf pine plantation and a mature longleaf habitat to better understand the connection between longleaf habitat components and carbon sequestration. The study area is on Hobcaw Barony property — a 16,000-acre research reserve owned by the Belle W. Baruch Foundation on the coast near Georgetown, South Carolina. It's also home to Clemson's Baruch Institute of Coastal Ecology and Forest Science. 
Funding from International Paper comes through Forestland Stewards, our conservation collaborative with NFWF, through which we've protected core habitats, including that of the endangered red-cockaded woodpecker. Launched in 2013, our Forestland Stewards Partnership protects and enhances ecologically important forestlands and coastal savannas in 10 southern states. Investments made through the partnership are projected to restore, enhance and protect 586,000 acres of native forest and wildlife habitat.
Our Forestland Stewards partnership is just one way we are making progress on our Vision 2030 target to conserve and restore one million acres of ecologically significant forestland. Learn more about our other strategic collaborations to manage, conserve and restore forestland at Our Renewable Future.
About International Paper
International Paper (NYSE: IP) is a leading global producer of renewable fiber-based packaging, pulp and paper products with manufacturing operations in North America, Latin America, Europe, North Africa and Russia. We produce corrugated packaging products that protect and promote goods, and enable world-wide commerce; pulp for diapers, tissue and other personal hygiene products that promote health and wellness; and papers that facilitate education and communication. We are headquartered in Memphis, Tenn., employ approximately 48,000 colleagues and serve more than 25,000 customers in 150 countries. Net sales for 2020 were $21 billion. For more information about International Paper, our products and global citizenship efforts, please visit internationalpaper.com.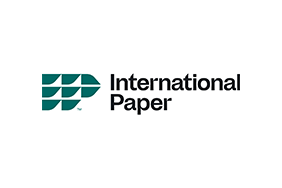 International Paper Company
International Paper Company
About International Paper
International Paper (NYSE: IP) is a global producer of planet-friendly packaging, pulp and other fiber-based products, and one of North America's largest recyclers. Headquartered in Memphis, Tenn., we employ approximately 39,000 colleagues globally who are committed to creating what's next. We serve customers worldwide, with manufacturing operations in North America, Latin America, North Africa and Europe. Net sales for 2022 were $21.2 billion. Additional information can be found by visiting InternationalPaper.com.
About International Paper - EMEA
In Europe, Middle East & Africa (EMEA), International Paper focuses on the production and marketing of fiber-based packaging and pulp, employing approximately 4,200 people. As a leading supplier of high-quality corrugated containers for a multitude of applications, we serve customers throughout the region from our network of two recycled containerboard mills and 23 box plants in France, Italy, Morocco, Portugal and Spain. Pulp production is centered in Gdansk, Poland. Other products available from International Paper in the region include Kraft linerboard and recycled containerboard, as well as pulp.
More from International Paper Company