Published 11-11-20
Submitted by Fifth Third Bancorp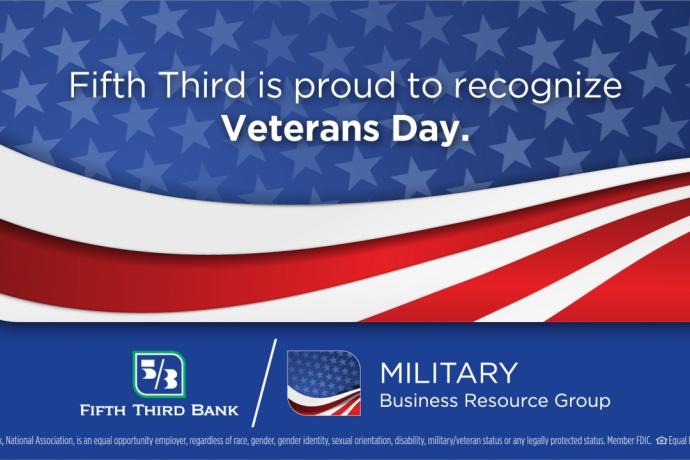 Fifth Third Bank actively promotes inclusion and diversity with eight virtual Enterprise Business Resource Groups led by Enterprise committee executives and nearly 70 regional business resource groups overseen by inclusion councils in each of the Bank's 13 regions. More than 3,800 employees take part in the in-person regional BRGs.
All of Fifth Third's BRGs are focused on three pillars: employee development, community involvement and business innovation. BRGs are open to all Fifth Third employees, whether they're members of the group's constituency or allies.
The Military BRGs across the Company have planned a variety of events and activities to celebrate Veterans Day.
Western Michigan: The Military BRG members delivered cards, puzzles and activity books to The Grand Rapids Home for Veterans. The group partnered with The Young Professionals BRG and three local schools to create cards for the residents of the Home and employees were also invited to create cards and donate items for the veterans. Each morning the residents are given a card with their breakfast as a way to brighten their day. 
Cincinnati: The Cincinnati Military BRG is participating in the Honoring Our Veterans Project, an effort to collect toiletry items, which will be donated to the Cincinnati and Ft. Thomas VA hospitals.
All employees are welcome to honor their loved ones who serve or who served in the armed forces by filling out a service shield of recognition with their loved ones' name, which will be displayed digitally during the week of 11/9. The group will also display a message that honors veterans on the Fifth Third LED Board on Fountain Square in Downtown Cincinnati.
Chicago: The Military BRG will be observing Veterans Day by displaying US flags, signage and flowers in the Rosemont and Riverside location lobbies and a message from Mark Hoppe, Fifth Third's Chicago president, will be shared in a regional meeting. The group will also display a message that honors veterans on an LED billboard in the city and at Fifth Third arena during the week of November 9. 
The Florida Military BRG members shared various volunteer opportunities for its members and employees to participate in, including: distributing food to veterans and military families as part of the Soldier's Angels Mobile Food distribution; directly supporting a veteran and military family during the holiday season through the Soldier's Angels Adopt-A-Family program or sending a letter to a soldier through the Forgotten Soldiers write-a-soldier initiative.
As part of Fifth Third honoring its employee veterans and service members, a story about Steve Ainsworth, vice president and Commercial relationship manager in Nashville, Tennessee, will be featured on the Bank's intranet site.
Ainsworth has served our country for more than 40 years. He recently returned to the Bank from an extended period of leading special assignments both in the United States and overseas – visiting more than 20 countries – for the U.S. Army and National Reserve.
His list of experience in the military is extensive, from his early days as a platoon leader to executive officer to commander over several divisions – including commands that led training for more than 195,000 soldiers and supported operations logistics across Europe, Africa and the Middle East. He has dedicated much of his life to serving the United States, even as he worked at the Bank.
"I wouldn't say I've lived a 'double life,'" Ainsworth said, "but those with whom I've worked over the years at the Bank knew that I used to have a special phone for what's known in the military as 'official use only.'"
From 2009 through 2011, Steve was a military intelligence brigade commander, providing units of nearly 2,600 soldiers to Afghanistan and Iraq while also serving the Bank's middle market Commercial customers.
"One of the great aspects I've experienced working at Fifth Third is how flexible and accommodating co-workers and leaders have been as I was serving in the military," he explained. "Not only that, the Bank's Core Values and those of the Army closely align."
The Army's values include loyalty, duty, respect, selfless service, honor, integrity and personal courage, while the Bank's Core Values focus on cross-functional collaboration, taking accountability, being respectful and inclusive, and acting with integrity.
"Along with those values, I like to say that you measure leadership with the three Cs: character, commitment and competence," Steve said. "And, no matter what the situation or circumstance, you treat people with fairness, dignity and respect.
"In alignment with our Core Value of Be Respectful & Inclusive, your actions reflect on you as an individual and on the organization that you represent," Steve continued. "While I was serving overseas, I always kept in mind how important it was to respect others' cultures and beliefs."
Steve retired at the end of September from the Army at the rank of major general and returned to Nashville to focus on his work at the Bank and serving its communities. "It's been an honor to serve, but I'm glad to be back," he said.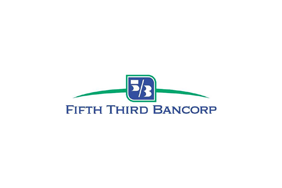 Fifth Third Bancorp