Published 11-05-20
Submitted by PNC Financial Services Group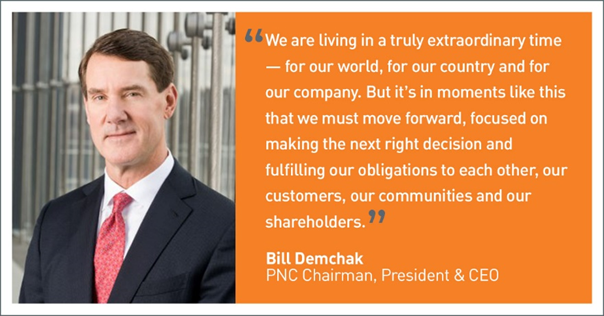 In October, PNC released a short-form CSR Update that discusses PNC's response to the COVID-19 pandemic and civil unrest related to racial equity and social injustice while still providing a continuing narrative around the environmental, social and governance topics historically highlighted for stakeholders annually. Included is PNC's CSR Scorecard and, its first Sustainability Accounting Standards Board (SASB) index.
As featured in PNC's Moments That Matter: An Update on Our Corporate Social Responsibility Commitments
To say that 2020 has been challenging would be .an understatement. We are living in a truly extraordinary time and experiencing an unprecedented level of change — for our world, for our country and for our company. But as I have shared with our employees, it's in moments like this that we must move forward, focused on making the next right decision and fulfilling our obligations to each other, our customers, our communities and our shareholders.
Now more than ever, I'm grateful to lead a company that is built on a foundation of strong values and that is committed to looking out for the best interests of our key stakeholders. Because of these values and our focus on supporting the unique needs of each of our constituents, we're navigating this extraordinary time from a position of strength.
In this moment, as we find ourselves at the convergence of a global health crisis, economic decline and one of the most significant civil rights movements of our time, we have an opportunity. We have an opportunity to respond in a way that helps drive meaningful and sustainable change for those who need it the most. Not only will we weather this storm, but we will come out even stronger and more resilient.
This moment matters. Our response matters. And I am stubbornly committed to making sure PNC gets it right.
In light of the current environment, we made the difficult decision to forgo publishing our full 2019 CSR Report, choosing instead to focus on our evolving response to both the COVID-19 pandemic and its economic impacts, as well as efforts underway to end systemic racism and empower Black Americans and low- and moderate-income communities.
That's not to say we've lost sight of the many ongoing issues that we have monitored and reported on over time. Those issues remain a priority. Managing climate risk, enabling sustainable finance, lending responsibly and supporting quality early childhood education — among other matters — are critical pieces of our commitments to our employees, customers, shareholders and communities. But as we react in real time to further strengthen our business and our company in the face of these unprecedented challenges, it's important for me to use this opportunity to share with you some of the steps we are taking to become ever more responsive to our stakeholders' most pressing concerns.
Read more in PNC's Moments That Matter: An Update on Our Corporate Social Responsibility Commitments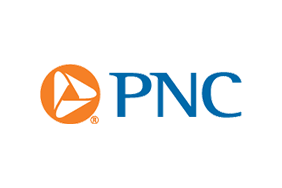 PNC Financial Services Group
PNC Financial Services Group
As a Main Street bank, we are committed to delivering on each of our strategic priorities while looking out for the best interests of all of our stakeholders, including our customers, communities, employees and shareholders. Our focus on operating with integrity drives us to help our customers achieve their goals while also strengthening our communities, reducing our environmental impact and empowering our employees to grow.
Email us to sign up for our CSR Newsletter
More from PNC Financial Services Group