Published 10-12-20
Submitted by Fifth Third Bancorp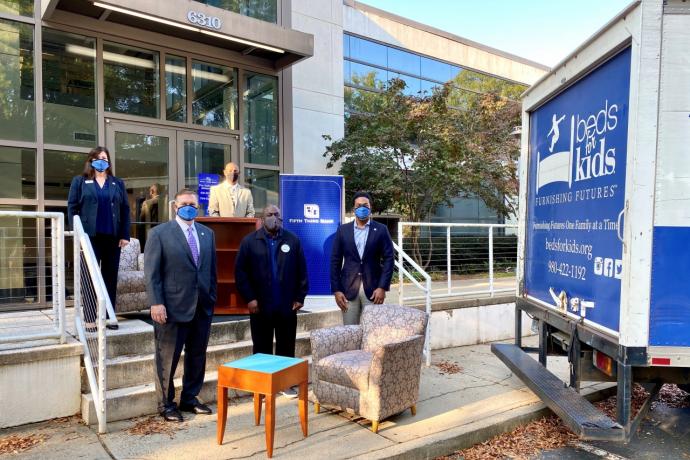 Pictured (L-R): Jill Kinney, VP, Retail Regional Manager, Fifth Third Bank; Lee Fite, Regional President, Fifth Third Bank; Kyron Williams, Project Manager, CBRE; Councilman, Malcolm Graham, Executive Director, Beds for Kids; Curtis Bodison, SVP, Director of Project and Program Management, Fifth Third Bank
CHARLOTTE, N.C., October 12, 2020 /CSRwire/ - At Fifth Third Bank, community involvement is a source of pride so when Curtis Bodison, SVP, Director of Project and Program Management learned about Beds for Kids during a conversation with Councilman, Malcolm Graham at a community event several months ago, he immediately put in motion a plan that will now see dozens of chairs, tables and bookshelves go to Charlotte-area families in need.
"I was at a meeting in the community with Councilman Graham and had an opportunity to learn more about the Beds for Kids non-profit organization," noted Bodison.  "When I shared the story internally, we thought it would be a great gesture to donate all of the furniture we were removing from our South Park location to such a phenomenal cause."
The mission of Beds for Kids is to provide beds and essential furniture to children and their families who are in need.  The organization was started in 2010 and officially became a 501(c)3 non-profit in 2011, providing 282 beds to children and families that year.  In March of this year, Graham was named Executive Director of Beds for Kids.
"This is a great day for Beds for Kids," said Graham. "We love the partnership with Fifth Third Bank and their commitment to provide necessary furnishings to families in need. This is a great example of how we partner with the corporate community to help solve a problem.  Fifth Third had quality furniture that was in need of a new home and we are always in need of donations like these. It's just a great partnership."
Regional President, Lee Fite was also on hand for the official moving day.
"We're honored to partner with Councilman Graham and the Beds for Kids organization," said Fite.  "We are always looking for ways to give back to the communities we serve and this is a fantastic opportunity to make a difference for a few Charlotte-area families."
For more information about Beds for Kids, visit www.BedsforKids.org.
About Fifth Third
Fifth Third Bancorp is a diversified financial services company headquartered in Cincinnati, Ohio and the indirect parent company of Fifth Third Bank, National Association, a federally chartered institution. As of June 30, 2020, Fifth Third had $203 billion in assets and operated 1,122 full-service banking centers and 2,456 ATMs with Fifth Third branding in Ohio, Kentucky, Indiana, Michigan, Illinois, Florida, Tennessee, West Virginia, Georgia and North Carolina. In total, Fifth Third provides its customers with access to approximately 53,000 fee-free ATMs across the United States. Fifth Third operates four main businesses: Commercial Banking, Branch Banking, Consumer Lending and Wealth & Asset Management. Fifth Third is among the largest money managers in the Midwest and, as of June 30, 2020, had $405 billion in assets under care, of which it managed $49 billion for individuals, corporations and not-for-profit organizations through its Trust and Registered Investment Advisory businesses. Investor information and press releases can be viewed at www.53.com. Fifth Third's common stock is traded on the Nasdaq® Global Select Market under the symbol "FITB." Fifth Third Bank was established in 1858. Deposit and Credit products are offered by Fifth Third Bank, National Association. Member FDIC.
CONTACT
Amber Darnell
+1 (704) 808-5016
Amber.Darnell@53.com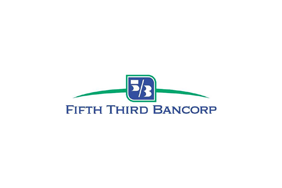 Fifth Third Bancorp