Published 09-10-20
Submitted by ACCP
The Association of Corporate Citizenship Professionals (ACCP) celebrates exceptional leaders in corporate responsibility through its annual Purpose Awards, which recognize professionals making significant social impact within their companies and communities. As this year's virtual ACCP Conference wraps, ACCP is announcing its 2020 Purpose Award winners.
"ACCP champions leaders and their companies when they are a force for good in the world," said Carolyn Berkowitz, President and CEO of ACCP. "We are thrilled to recognize professionals at every level, from associate to CEO, who demonstrate exceptional leadership and achievement in corporate responsibility. This year's Purpose Award winners are shining examples of corporate citizenship at its best. Amidst a backdrop of the COVID-19 pandemic and the rising tensions around racial justice, the vital work these individuals are doing every day is of the utmost importance."
The 2020 Champion for Change Award, given to a senior executive who provides leadership that advances social and business impact throughout our world, is presented to Vincent Forlenza, Executive Chairman of the Board of BD, who retired as CEO in January 2020. Vincent has been instrumental in shaping and expanding the impact of BD's corporate social responsibility (CSR) footprint since he was named CEO in 2012. He has also been involved in establishing and driving all aspects of the BD 2020 Sustainability Goals, which provide the framework for how BD manages – and makes an impact on – key social and environmental issues
The second major award, the 2020 Trailblazer Award, given to a senior practitioner whose leadership, strategy, and programs have demonstrated significant business and societal impacts is presented to Kevin Martinez, Vice President of Corporate Citizenship for ESPN. Kevin's CSR vision has set forth a commitment to providing access to sports for underserved youth and the demonstrated capacity to maintain long-term programs to build leadership skills and empowerment through sport.
The final award, the 2020 Rising Star Award, recognizes an emerging professional in corporate citizenship whose work creates meaningful impact inside and outside the company, often requiring influence well beyond the level of their position. Tanya Jeong of AbbVie is the 2020 recipient of the Rising Star award. As Associate Director of Global Philanthropy, Tanya demonstrates a tireless dedication to community and employee engagement which she has made the very heart of her professional life. 
ACCP is proud of the 2020 Purpose Award winners and looks forward to what these individuals will accomplish next.
Founded in 2005, ACCP is a membership-based organization chartered to champion the Corporate Citizenship professional. ACCP connects members to information, peers and resources and cultivates educational opportunities that promote better stewardship of corporate resources to magnify social and business impacts. For more information visit www.accp.org.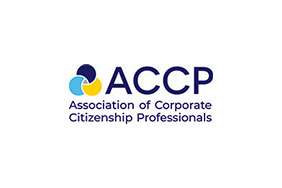 ACCP
ACCP
The Association of Corporate Citizenship Professionals (ACCP) is the nation's leading independent organization providing services and support for corporate contributions, community relations, and employee volunteer managers.
ACCP is a nonprofit advocacy and continuing education organization that helps corporations identify and adopt best practices and provides training for contributions professionals in the contributions, community relations, and volunteerism fields.
More from ACCP