Published 08-27-20
Submitted by ACRE Investment Management
ACRE Investment Management is proud to extend its partnership with 1t.org U.S. to advance the United States leadership in the global 1t.org platform and initiatives by planting 100 million trees by 2030. As a global leader in reforestation and carbon credit origination, the ACRE platform is designed to connect velocity and scale to forests and carbon across four distinct divisions: Big River Nursery, GreenTrees, Conservation Plus, and Forest Green. 
ACRE Investment Management, LLC, recently announced its pledge to the 1t.org U.S. Chapter to plant 100 million trees through its forestry program in the Mississippi Alluvial Valley and other South East and Eastern parts of the United States by 2030. At the completion of the next 100 million trees, ACRE will have sequestered approximately 35.1 million metric tons of CO2e.
"As the largest global carbon reforestation platform, we believe trees are the most scalable solution for removing carbon from the atmosphere," said Chandler Van Voorhis, Co-Founder and Managing Partner of ACRE. "Along with our 500+ GreenTrees' landowners, we have planted over 42 million trees on 120,000 acres of land. Today, we stand ready to connect velocity and scale to forests and carbon by pledging to plant an additional 100 million trees through reforestation, nursery, and mitigation banking businesses."
1t.org U.S. is the first regional chapter of the global 1t.org platform, a World Economic Forum initiative, designed to support the U.N. Decade on Ecosystem Restoration 2021-2030, led by UNEP and FAO. American Forests and the World Economic Forum recently announced the U.S. Chapter of 1t.org, which is supported by President Trump and Rep. Bruce Westerman (R-Ark.), who introduced the Trillion Trees Act. GreenTrees, a subsidiary of ACRE Investment Management, has roughly 6,000 acres of carbon reforestation in Westerman's Congressional District. The land in Rep. Westerman's district has sequestered more than 220,000 tons of carbon while generating steady financial rewards for its landowners at the same time.
"The Trillion Trees Initiative has the potential to dynamically change the way America and the rest of the world combat climate change, using the combined power of science and legislation to help lower atmospheric carbon, reverse the impacts of land degradation, and restore the ecological diversity of our forests and wetlands," says Van Voorhis. "It's a bold commitment from a wide range of stakeholders, so we know that its impact will be far-reaching and sustained for generations to come." 
ACRE is committed to the carbon asset as the tool that drives forest creation. The economics of carbon in terms of price and demand is the foundation for growing forestry ecosystems on scale. At the same time, reforestation is critical to meet the increasing demand for carbon credits. The new forests planted by ACRE will help satisfy this demand.
As the largest single private conservation forestry initiative ever undertaken in the United States — a ten year, one million acre conservation initiative building new forests in America by uniting scale, speed, restoration, carbon generation, ecosystem repair, and climate impact — this vision aims to plant over 500 million new trees and generate 300 million reforestation carbon credits in the ensuing decades. 
The ACRE platform drives the reforestation and carbon market industry in North America. Using capitalism to resolve ecological imbalances by weaving financial and natural assets to one another rather than choosing between them, the result is to widen the berth of industrial capitalism and unify dissimilar orbits through inspiring asset partnerships formulation. ACRE's synergy, based on the interaction of trees and carbon, is forward, ingenious, and revolutionary. The smokestack is being replaced by a new spiral  - the spiral of continuously upward reforestation bringing hope, and cornering fresh breath, for all.
When we plant trees, we plant hope.
For more information, please contact:
Robert Banner Senior Project Officer
Phone: 540-253-2509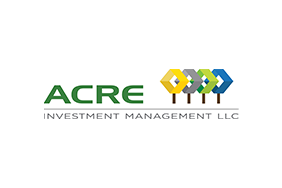 ACRE Investment Management
ACRE Investment Management
ACRE Investment Management, LLC (AIM) is a wholly owned investment platform created by C2I, LLC. The AIM platform is designed to both deploy the ACRE mechanism across a portfolio of companies while driving scaled impact into the restoration economy.
The ACRE (Advanced Carbon Restored Ecosystem) represents all the environmental and conservation attributes associated with the restoration and/or conservation of one physical acre of property. We recognize that there is a genius to nature. Ultimately, ACRE is about putting a price and value on its services—water, wildlife, carbon and so much more.
A recent study commissioned by C2I, the parent company of AIM, states that reforestation brought to scale around the world can sequester as much as 15% of the world's current emission output. This scale will lead to a ten-percent reduction of of Global Mean Temperature (GMT) in absolute terms.
As the world races to prevent a 2 degree C rise of GMT, reforestation is the only immediately scalable solution. Given 1/3 of all the emissions has come from deforestation, it only makes sense that we embrace the power of nature and restore ecosystems around the world and do it on scale.
More from ACRE Investment Management