Published 08-27-20
Submitted by International Paper Company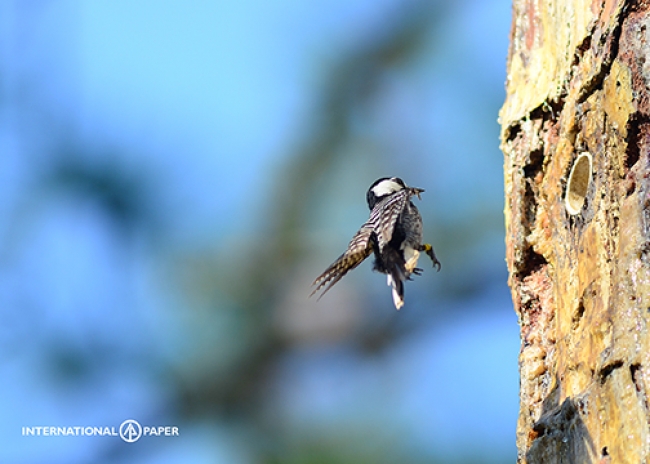 The longleaf pine ecosystem once covered more than 90 million acres across the Southeastern coastal plain and piedmont. Today, it has been reduced to only about 5% of its historical range due to the conversion of forest type, conversion to other land uses and fire suppression. This fire-adapted ecosystem possesses tremendous biodiversity, supporting nearly 900 endemic plant species and providing habitat for wildlife such as the red-cockaded woodpecker, gopher tortoise, indigo snake and Bachman's sparrow. This forestland also offers recreational opportunities for millions of Americans and contributes to forest-dependent economies. Longleaf forests are resilient to drought, wind, and pests, and help buffer communities from strong storms.
These important forests gained the conservation community's attention in the late 20th Century as government agencies, non-profits and private landowners began collaborating to restore longleaf pine and reverse the loss of habitat. In 2012, the National Fish and Wildlife Foundation (NFWF) established the Longleaf Stewardship Fund to support these conservation efforts. A year later, International Paper joined the Fund through our Forestland Stewards Partnership with NFWF.
At International Paper, our entire business depends on the sustainability of forests, and we recognize that sustainable forestry doesn't just happen in the working forests from which we source our fiber. Through strategic collaborations like this one and our Vision 2030 goal of Healthy and Abundant Forests, we are working to conserve the biodiversity and health of all forestland, including those that are not used to make renewable, fiber-based products.
NFWF announced  this week $5.6 million in grants from the Longleaf Stewardship Fund to restore, enhance and protect longleaf pine forests. The 23 grants will support conservation work in Alabama, Florida, Georgia, Louisiana, Mississippi, North Carolina, South Carolina and Texas. Together, these grants are expected to establish more than 15,000 new acres of longleaf pine through plantings and will enhance an additional 335,000 acres of habitat through prescribed burning, invasive species removal and other forest management practices.
These grants will also support the recovery of several rare species through translocation, captive rearing and reintroduction, including the red-cockaded woodpecker and gopher tortoise. These animals are known as keystone species, which means many other species benefit from their presence in the ecosystem.
"The restoration of America's longleaf pine forest has immeasurable ecological, economic and social value," said Sophie Beckham, Chief Sustainability Officer, International Paper. "Through our Forestland Stewards Partnership with NFWF, we are proud to support eight of the 23 grants that will help to restore and manage thousands of acres of southeastern forestland and engage landowners in the stewardship of this important ecosystem." 
The eight projects receiving funding from our Forestland Stewards Partnership will achieve the following:
plant 5,600 acres of longleaf pine
improve management of an additional 69,000 acres
engage nearly 1,000 private landowners in forest stewardship through outreach and technical assistance.
Since 2013, International Paper's Forestland Stewards Partnership with NFWF has supported 61 conservation grants through the Longleaf Stewardship Fund, helping to restore, enhance and protect more than 370,000 acres of longleaf pine habitat and engaging more than 11,500 private landowners to help them implement forest stewardship practices on their land.
Our Forestland Stewards partnership is just one way we will make progress on our Vision 2030 target to conserve and restore one million acres of ecologically significant forestland. Learn more about our other strategic collaborations to manage, conserve and restore forestland at Our Renewable Future.
About International Paper
International Paper (NYSE: IP) is a leading global producer of renewable fiber-based packaging, pulp and paper products with manufacturing operations in North America, Latin America, Europe, North Africa and Russia. We produce corrugated packaging products that protect and promote goods and enable world-wide commerce; pulp for diapers, tissue, and other personal hygiene products that promote health and wellness; and papers that facilitate education and communication. We are headquartered in Memphis, Tenn., employ more than 50,000 colleagues and serve more than 25,000 customers in 150 countries. Net sales for 2019 were $22 billion. For more information about International Paper, our products and global citizenship efforts, please visit internationalpaper.com. See how we're building a better future for people, the planet and our company at internationalpaper.com/Vision-2030.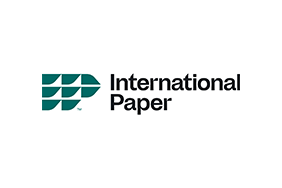 International Paper Company
International Paper Company
About International Paper
International Paper (NYSE: IP) is a global producer of planet-friendly packaging, pulp and other fiber-based products, and one of North America's largest recyclers. Headquartered in Memphis, Tenn., we employ approximately 39,000 colleagues globally who are committed to creating what's next. We serve customers worldwide, with manufacturing operations in North America, Latin America, North Africa and Europe. Net sales for 2022 were $21.2 billion. Additional information can be found by visiting InternationalPaper.com.
About International Paper - EMEA
In Europe, Middle East & Africa (EMEA), International Paper focuses on the production and marketing of fiber-based packaging and pulp, employing approximately 4,200 people. As a leading supplier of high-quality corrugated containers for a multitude of applications, we serve customers throughout the region from our network of two recycled containerboard mills and 23 box plants in France, Italy, Morocco, Portugal and Spain. Pulp production is centered in Gdansk, Poland. Other products available from International Paper in the region include Kraft linerboard and recycled containerboard, as well as pulp.
More from International Paper Company