Published 07-15-20
Submitted by ACRE Investment Management

GreenTrees, a global leader in reforestation and carbon banking, has recently paid out in excess of $2 million to Mississippi Delta farmers and landowners in the largest check distribution to date for the company.
Established in 2003, C2I, GreenTrees parent company, began building the GreenTrees reforestation model. This model would work with landowners to generate carbon credits from more than 40 million trees growing on more than 120,000 acres located throughout the Mississippi Delta. With the positive growth of the market, GreenTrees is working to expand its landowner base to meet the growing demand. 
"We're seeing unprecedented growth in the demand for carbon credits as businesses look to offset their carbon footprints while simultaneously responding to the concerns of sustainability-minded customers and investors. The lift in demand is driving the price of carbon higher and, in addition to the obvious environmental rewards, Delta farmers and landowners are the principal beneficiaries," said Chandler Van Voorhis, Managing Partner of GreenTrees. "The future of the carbon reforestation market is very promising."
GreenTrees sells carbon credits to businesses like high tech data centers and international airlines, then shares the revenue checks periodically through the year with their partnering landowners. GreenTrees has become the largest reforestation project in the world by credit issuance and has earned the attention of Rep. Bruce Westerman (R-Ark) sponsor of the Trillion Trees Act promoting trees as a natural solution to climate change.
About GreenTrees
GreenTrees, wholly owned by ACRE Investment Management, LLC (AIM), partners with landowners, corporate buyers, and industry professionals to reap the financial and ecological rewards from growing world-class forests on marginal farmland bordering the North American river systems. As a global reforestation leader, GreenTrees mission is to bring scale to conservation by putting a price and value on natural capital and by linking the biological world to the transactional marketplace. For more information, visit www.Green-Trees.com.
###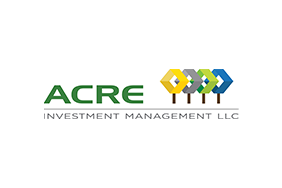 ACRE Investment Management
ACRE Investment Management
ACRE Investment Management, LLC (AIM) is a wholly owned investment platform created by C2I, LLC. The AIM platform is designed to both deploy the ACRE mechanism across a portfolio of companies while driving scaled impact into the restoration economy.
The ACRE (Advanced Carbon Restored Ecosystem) represents all the environmental and conservation attributes associated with the restoration and/or conservation of one physical acre of property. We recognize that there is a genius to nature. Ultimately, ACRE is about putting a price and value on its services—water, wildlife, carbon and so much more.
A recent study commissioned by C2I, the parent company of AIM, states that reforestation brought to scale around the world can sequester as much as 15% of the world's current emission output. This scale will lead to a ten-percent reduction of of Global Mean Temperature (GMT) in absolute terms.
As the world races to prevent a 2 degree C rise of GMT, reforestation is the only immediately scalable solution. Given 1/3 of all the emissions has come from deforestation, it only makes sense that we embrace the power of nature and restore ecosystems around the world and do it on scale.
More from ACRE Investment Management