Published 06-16-20
Submitted by Ethical Corporation
Covid-19, the climate crisis and social inequalities are critical issues that businesses are being tasked to  help address. This brings an increasing need for business to present accurate impacts and actions that prove they're a force for good. Now, maybe more than ever before, it's vital that business can outline future ambitions and resilience, whilst communicating a purpose that helps address the current challenges that we face.

Therefore, Ethical Corporation by Reuters Events is delighted to announce the launch of the  Sustainability Reporting and ESG Engagement Europe, an online 2-day event series –  which is entirely free to attend.

We are humbled that our speakers and partners are going online with us and share our belief that we must do what we can to carry on communicating at this critical time.

Check out the full, comprehensive virtual offering here, all completely free to access!

Why The Virtual Sustainability Reporting and ESG Engagement Europe is essential viewing:
It's free for all to join: In such a difficult time, we want to unify the industry and we've taken the decision to allow anyone to sign up to listen live, ask questions and participate.

A speaker faculty even better than before: You'll learn from 50+ speakers with 20+ free sessions with presentations, panels, fireside chats, interactive workshops and Q&A. You'll also see hours of additional live and on-demand content, including exclusives from Yorkshire Water, JLL, Net Impact Amsterdam, MOL Group and many more

Connect with industry leaders around the world: Without the constraints of geography, we'll have thousands of industry leaders from across the globe coming together to network and collaborate.

Full virtual exhibition: Showcasing exhibitors, search for the latest services and technology solutions from your desk, watch demo videos and the ability to share your virtual business card.
View more info and register for the FREE virtual event here!

Best regards,
Ana

Ana Uzcanga
Project Director
Reuters Events
Phone: +44 (0) 207 375 7213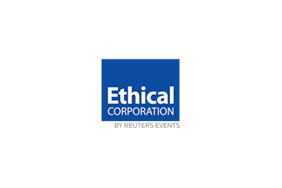 Ethical Corporation
Ethical Corporation
Ethical Corporation has provided business intelligence for sustainability since 2001.
We serve around 3,000 customers a year mainly from big business. Our customers are also NGOs, think-tanks, academia, governments and service providers to the corporate sustainability industry.
We're a UK business, part of FC Business Intelligence Ltd, an independently owned company based in London Ethical Corporation is 100% focused on global ethical business and how large companies are responding to the sustainable business agenda.
We have writers and experts all over the world. We publish the leading global responsible business magazine, host events and sell independent research. Our conferences are widely recognised as the best in the field.
More from Ethical Corporation