Published 04-24-20
Submitted by Global Reporting Initiative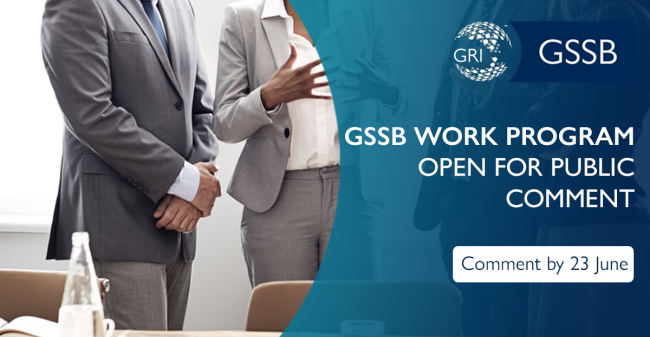 Provide feedback to Global Reporting Initiative by 23 June
Feedback from all stakeholders is being sought to determine which areas GRI's Global Sustainability Standards Board (GSSB) should focus on over the next three years.
The GSSB is the independent body within GRI's governance that has sole responsibility for developing and implementing the GRI Standards. The draft GSSB Work Program for 2020-2022 identifies the high-level priorities for reviewing and updating Standards, and consideration for new topic-specific Standards.
Reflecting the GSSB's commitment to inclusive and multi-stakeholder engagement, a public comment period for the Work Program has been launched and is open until 23 June. This provides opportunities for any interested party to contribute to the direction of travel for GRI's standard setting activities.
Included in the new Work Plan is continuing the progression of GRI's new Sector Program, by building on the two current pilot projects – for oil, gas and coal, and agriculture – and deciding the next high-impact sectors to be prioritized.
GSSB chair Judy Kuszewski said:
"The GRI Standards are embedded in the ethos of continual improvement, ensuring that our Standards offer the global best practice for disclosing impacts. That is why so many thousands of organizations around the world use GRI's framework to understand and communicate their sustainability performance.

The GSSB relies on a broad spectrum of stakeholders to inform decisions in setting the strategic focus for our ongoing work plan. This is an essential tool for determining how the available resources should be applied to develop and improve the Standards. That is why I encourage everyone to provide feedback on the 2020-2022 Work Program."
The GSSB's 15 members bring broad-ranging and international perspectives on sustainability reporting and sustainable development. Representatives are included from business enterprise, labor, investment institutions, civil society, and mediating institutions.
The Global Reporting Initiative (GRI) is the independent international organization that helps businesses, governments other organizations understand and communicate their impacts. The GRI Standards are the world's most widely used for sustainability reporting.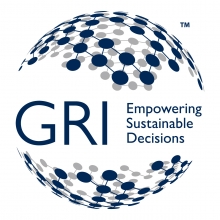 Global Reporting Initiative
Global Reporting Initiative
The Global Reporting Initiative's (GRI) vision is that reporting on economic, environmental, and social performance by all organizations becomes as routine and comparable as financial reporting. GRI accomplishes this vision by developing, continually improving, and building capacity around the use of its Sustainability Reporting Framework.
An international network of thousands from business, civil society, labor, and professional institutions create the content of the Reporting Framework in a consensus-seeking process.
More from Global Reporting Initiative