Published 04-17-20
Submitted by Spectrum Designs Foundation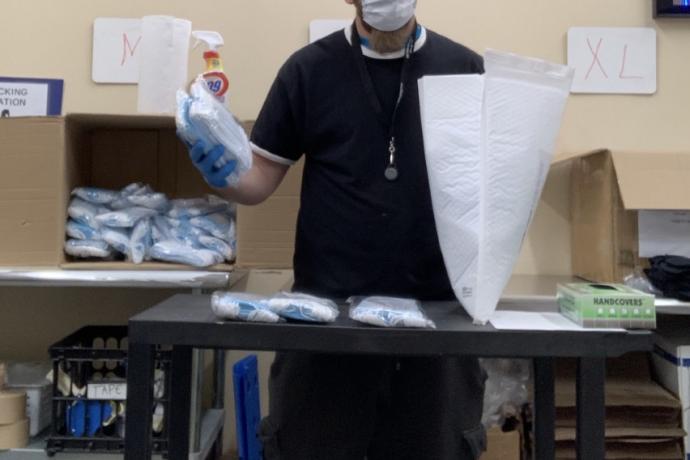 Brian Strauss, Operations Manager Spectrum Designs Foundation Packing PPE Photo Credit: Spectrum Designs Foundation
Spectrum Designs Foundation pivoted their custom design print work to procure desperately needed PPE – personal protective equipment – for front line and essential workers, businesses, municipalities and nonprofits. The staff are successfully sourcing ethically priced, certified and vetted items while ensuring a quick delivery for those in need.  Workers are also warehousing and distributing from their Port Washington Facility. 
"The response has been incredible," says Patrick Bardsley, Co-Founder and CEO Spectrum Designs Foundation. "In just one week, we have supplied 100,000 face masks and other PPE items to front line workers, healthcare professionals and businesses. We are proud to have been able to help keep our communities safe, while keeping on point with our mission." The organization provides vocational training and paid employment experiences to individuals on the Autism Spectrum – a population facing a 90% unemployment and under-engagement rate after age 21. 
When New York State ordered all non-essential businesses put on PAUSE in an effort to stop the spread of COVID-19, all work at Spectrum Designs' screen print shop was halted. Thoughts turned to how to be of service during these unprecedented times. Reaching out to vendors and using their existing relationships with overseas suppliers, the team was able to secure vital items at a time when many others could not. During a time of high demand and extreme price fluctuation, Spectrum Designs is proud to have secured vital safety items, including KN95 masks, hand sanitizer, gloves and cloth & disposable masks at fair prices.
"The heroes of the COVID-19 crisis – the front-line and essential workers, all deserve to be safe as they work to keep others safe. We are so proud to be able to help at a time of great need." says Tim Howe, COO Spectrum Designs Foundation. "We will continue to offer these items, even as America returns to work - we will work tirelessly to do whatever we can." The organization is reaching out to businesses and agencies to help equip offices with PPE for returning staff. Anticipating changes that will take place in the "new" workplace, Spectrum Designs stands at the ready to assist. 
Spectrum Designs Foundation is a purpose-driven organization with an important mission - to help individuals with Autism lead full and productive lives through the world of work. As a non-profit, 100% of profits go to advance the mission. Via three separate social enterprises, Spectrum Designs, Spectrum Bakes, and Spectrum Suds, opportunities are created for employment, empowerment and growth.  www.spectrumenterprises.org
### 
A 501(c)3 not-for-profit organization dedicated to helping individuals with Autism lead meaningful and productive lives through the world of work. Tax Id # 27-5020830

Spectrum Designs Foundation