Published 04-08-20
Submitted by International WELL Building Institute
The International WELL Building Institute (IWBI) announced has announced that the first K-12 school district has enrolled in the WELL Portfolio program, graciously funded by Serpentini Chevrolet Buick of Orrville. Through this donation, Serpentini will enable the Orrville School District in Ohio to support the health and well-being of its students, teachers and broader community through use of the WELL Building Standard.
"Our buildings, and everything in them, should work to enhance, not compromise the health of the people who occupy them.  As we consider our return to the classroom following the COVID-19 outbreak, our communities should feel reassured that these spaces are doing exactly that for our children, the teachers and staff who nurture them, and future health and well-being of our communities," said IWBI Chairman and CEO Rick Fedrizzi. "Using WELL is one way to do that, and Bob Serpentini has empowered the Orrville School District to pave the way for schools everywhere who are looking for strategies that can help schools with prevention and preparedness, resilience and recovery in these unsettling times."
WELL is a performance-based rating system for measuring, certifying, and monitoring features of our buildings that impact health and wellness. WELL prioritizes clean air and water, access to healthy food, natural daylight, and design elements that encourage physical activity. WELL also incorporates strategies that focus on mental health and community engagement. Largely focused on preventative measures, WELL can be especially critical at the elementary school level, promoting healthy behaviors for children that can nurture a lifetime of healthy habits.  
By applying the world's leading health-focused building standards, Orrville School District will use strategies based on the latest scientific evidence to improve the places and spaces where our children learn and thrive," said IWBI President Rachel Gutter.  
Some specific enhancements to the physical spaces could be - better air filtration, more water stations, more finely tuned thermal comfort and better lighting solutions. The use of the right materials and supplies that promote health, not compromise it.  WELL also includes design features that encourage more movement throughout the day, lots of attention to nourishment guidelines, options for quiet spaces and access to nature both visually and literally. "Taken together the science says this improves health, productivity, concentration, a sense of well-being and happiness," said Gutter.  "Don't we want all of these things for our kids?"
When asked about the initiative, Bob Serpentini was very excited. "We started discussing the possibilities toward the end of 2019. With the understanding that there is nothing more important to parents than the health of their children. Obviously with COVID-19, this has been magnified even further," said Serpentini. "We have been in this community for 40 years, and we understand the kids walking the halls of those schools are the future of Orrville. That really makes this an easy decision."
The school district has three K-12 buildings hosting about 1,600 kids, making WELL Portfolio the ideal tool for schools looking to enhance the performance of every building and improve health, wellness and productivity for all students and staff.
Superintendent Jon Ritchie noted, "We're excited about the WELL Building initiative for the benefit of our students and staff.  We are blessed to have business leaders such as Bob Serpentini who are so committed to the health and well-being of the community!"
About the International WELL Building Institute
The International WELL Building Institute (IWBI) is leading the global movement to transform our buildings, communities and organizations in ways that help people thrive. WELL v2 is the latest version of its popular WELL Building Standard (WELL), and the WELL Community Standard pilot is a district scale rating system that sets a new global benchmark for healthy communities. WELL is focused exclusively on the ways that buildings and communities, and everything in them, can improve our comfort, drive better choices, and generally enhance, not compromise, our health and wellness. IWBI mobilizes the wellness community through management of the WELL AP credential, the pursuit of applicable research, the development of educational resources, and advocacy for policies that promote health and wellness everywhere. IWBI is a participant of the United Nations Global Compact, the world's largest corporate citizenship initiative, and helps companies advance the UN Sustainable Development Goals (SDGs) through the use of WELL. More information on WELL can be found here.
International WELL Building Institute, IWBI, the WELL Building Standard, WELL v2, WELL Certified, WELL AP, WELL, WELL Portfolio, The WELL Conference, the WELL Community Standard and others, and their related logos are trademarks or certification marks of International WELL Building Institute pbc in the United States and other countries.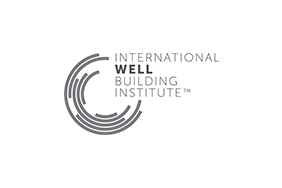 International WELL Building Institute
International WELL Building Institute
The International WELL Building Institute™ (IWBI™) is a public benefit corporation whose mission is to improve human health and well-being through the built environment. IWBI administers the WELL Building Standard™ (WELL) – a performance-based system for measuring, certifying, and monitoring features of buildings that impact the health and well-being of the people who live, work, and learn in them. IWBI was established pursuant to a Clinton Global Initiative commitment to improve the way people live by developing spaces that enhance occupant health and quality of life by sharing the WELL Building Standard globally. www.wellcertified.com
More from International WELL Building Institute