Published 04-03-20
Submitted by Community Health Charities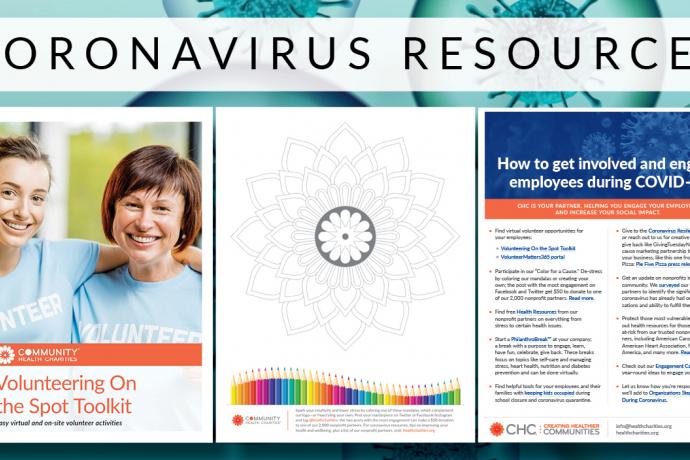 Today, Community Health Charities (CHC) released the findings from its March survey of nonprofit partners, identifying the impact coronavirus has on their ability to fulfill their missions. Of the 331 nonprofits who responded, 73% had already canceled a fundraising event due to COVID-19. The cumulative financial loss to these nonprofit organizations over the next three months alone was $644 million, significantly impacting nearly every state, including:
$39.8 million lost in California

$95.6 million in Illinois

$22.5 million in Minnesota

$261.6 million in New York

$33.8 million in Pennsylvania

$20.5 million in Texas

$11.2 million in Wisconsin
In response, CHC has redoubled its efforts:
Raising awareness of these survey results with companies and funders to identify support for nonprofit organizations, plus sharing resources with the media.

Hosting a Q&A on the $2 trillion Coronavirus Aid, Relief and Economic Security (CARES) Act with congressional tax counsel to help nonprofits secure funding. Register for the April 9 webinar.

Providing virtual volunteer opportunities online and in a Volunteering on the Spot toolkit to engage companies and their employees while supporting nonprofit organizations.

Promoting mental wellbeing with "Color for a Cause" to reduce anxiety and drive support to nonprofits.

Launching the Coronavirus Resiliency Fund to help vulnerable populations impacted by COVID-19 by shoring up capacity and building the long-term resilience of our nearly 2,000 community nonprofit partners who ensure food, aid, shelter and medical supplies are delivered to those who need it most.

Partnering creatively with companies like Pie Five Pizza and proactively reaching out to companies to offer help and support for their business as well as ways to get engaged and give back to the community.

Keeping a running list of coronavirus resources and recognizing organizations that are stepping up.

Creating new tools, such as a one-pager of resources for companies looking for virtual volunteering, year-round employee engagement, health resources for those most at risk, and more.
For more information on any of these resources, contact info@healthcharities.org.
About Community Health Charities 
For more than 65 years, Community Health Charities (CHC) has been creating stronger, healthier communities. We build capacity for nonprofits by raising awareness, amplifying their message, and driving more funds and supporters to their cause; increase employee engagement and social impact for companies through giving, volunteering, health resources, engagement tools, community partnerships, and more; bring leaders together at the national, regional, and local levels to educate, elevate key issues, and improve overall social impact and community health; build community partnerships to harness collective efforts and coalitions; working together to tackle projects that improve community health and address root causes at scale. Visit https://healthcharities.org or @healthcharities. 

Community Health Charities
Community Health Charities
Community Health Charities (CHC) works to improve the lives of people affected by a disability or chronic disease. We accomplish this by making it easier for employees in the workplace to give to the health charities important to them and connect to the reliable health information, services and resources of the nation's most trusted health charities. For more than half a century, CHC has partnered with more than 2,000 national and local charities to provide a cost effective partnership that enhances the ability to deliver more of every dollar donated into the hands of those who desperately need it.
More from Community Health Charities