Published 03-18-20
Submitted by Fifth Third Bancorp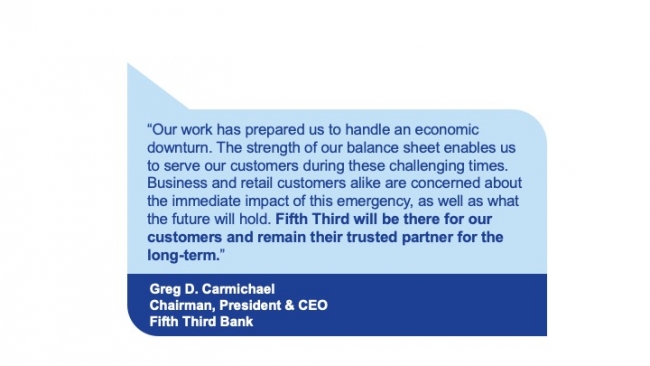 Fifth Third is taking action to support its employees and customers, ensuring business continuity throughout the quickly-evolving health and economic environment.
"Our first priority is to keep our customers and employees safe," said Greg D. Carmichael, chairman, president and CEO. "Fifth Third takes seriously our role and responsibility during this time to prioritize the health and well-being of our communities, customers and employees. We appreciate our customers' understanding as their banking experience may look different as we navigate this time together to make decisions guided by the U.S. Centers for Disease Control and our Mission and Values."
If circumstances should warrant the temporary closure of any Fifth Third Bank locations, that news will be communicated to customers, including details on backup physical locations and contact information for their trusted bank partners. The Bank also has backup for operational locations that support the processes and systems necessary to serve its customers. Fifth Third Bank has long had comprehensive plans and strategies in place to manage effectively through emergencies, including hardship programs for our valued customers. You can learn more by visiting Fifth Third's website here and reading a message from Greg Carmichael here.
Fifth Third recommends that customers continue to leverage all of the digital banking tools and resources for self-service banking and account access through mobile, online and voice banking services, as well as the Bank's network of approximately 53,000 fee-free ATMs across the United States.
In addition to taking care of its customers, Fifth Third is committed to taking care of its employees. Speaking to Fifth Third employees, Carmichael stated, "Your well-being and that of your family is my primary concern. Our leadership team has updated our policies and procedures to ensure our employees and their families are cared for."  Fifth Third has created additional benefits to cover its employees in this time of need and its employees will continue to be paid if they become sick, are taking care of a family member who is ill, or are navigating daycare or school closures."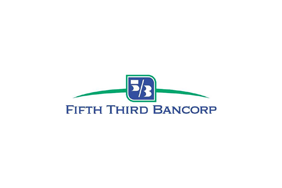 Fifth Third Bancorp