Published 03-19-20
Submitted by Ray C. Anderson Foundation

Ray C. Anderson Foundation's NextGen Committee Opens RFP for $100,000 Grant
The NextGen Committee of the Ray C. Anderson Foundation has issued a call for proposals for one $100,000 grant to fund work in the 2021 calendar year for new or existing programs that will help to reduce global warming, whether through direct carbon avoidance, climate communication, climate education, industry engagement, or otherwise.
Ray's five grandchildren, along with their spouses, comprise the NextGen Committee of the Foundation, which makes recommendations to the Board of Trustees for worthwhile grants and initiatives.
In 2019, the NextGen committee awarded a $100,000 grant to The Inga Foundation for their "Land for Life" program, and in 2018, the NextGen Committee awarded a $90,000 grant to Second Nature.
Grants are limited to 501(c)(3) charities in the United States.   Those interested in applying for the grant should visit the grant web page to review the proposal guidelines and submit their proposal.
All grant inquiries should be directed to: nextgengrants@raycandersonfoundation.org
No phone calls.
RESOURCES
CONTACT
Ray C. Anderson Foundation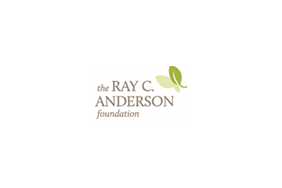 Ray C. Anderson Foundation
Ray C. Anderson Foundation
The Ray C. Anderson Foundation was created in honor of the late Ray C. Anderson (1934-2011), founder of Interface, Inc. During his time at Interface, Ray championed the notion of businesses doing well by doing good. It's these noble qualities of advancing knowledge and innovation around environmental stewardship and sustainability that recognized Ray as a pioneer in industrial ecology.
The purpose of the Foundation is to perpetuate these shared values and continue the legacy that Ray left behind. Through research and funding, the Foundation aims to help create a better world for future generations—tomorrow's child. Join us as the story of the Foundation continues to unfold.
More from Ray C. Anderson Foundation