Published 03-05-20
Submitted by Sodexo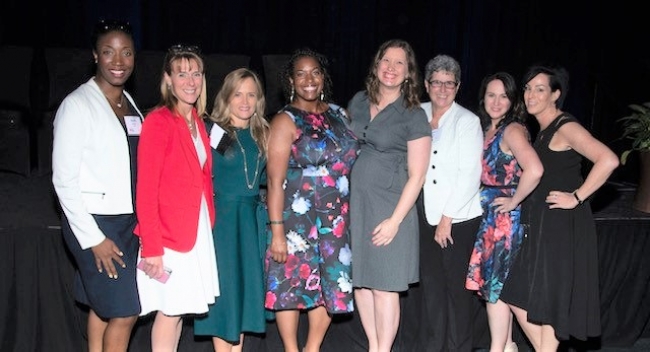 Members of SoTogether, Sodexo™s women employee business resource group.
 Sodexo, a food services and facilities management company committed to improving Quality of Life, announced today that it has been named one of the 2020 NAFE Top Companies for Executive Women by the National Association for Female Executives. NAFE and Working Mother continue to explore ways to move more women into top positions, while highlighting the successes at these trailblazing companies.
This list recognizes US companies that have a strong focus on best practices that move women to senior ranks, including mentoring, sponsorship, involvement in employee-resource groups and leadership-development training. The list also highlights company benefits and corporate cultures of accountability for gender-equity results, including the involvement of the CEO and top leaders in advancing women. The NAFE Top 70 Companies, released today, is featured in the April/May issue of Working Mother.
"We are proud to be named one of the Top Companies for Executive Women," said Gerri Mason Hall, Chief Diversity and Sustainability Officer, Sodexo Americas. "This prestigious recognition affirms Sodexo's global commitment to inclusion and achieving gender balance at all levels of leadership by 2025."
Gender equality is a strategic imperative for Sodexo. With women making up 34 percent of Sodexo's Global Senior Leaders and 60 percent of its Board of Directors, a powerful internal gender balance study and strong gender networks throughout the global organization, the group's commitment to gender equality is at the heart of its strategy and performance. Sodexo's goal is that by 2025 women will represent at least 40 percent of its senior leadership staff.
Referring to the S&P 500, where women remain stalled at 6 percent of CEOs, NAFE President Dr. Betty Spence said: "Our research 'The Gender Gap at the Top: What's Keeping Women from Leading Corporate America' uncovered the alarming fact that men— not women—are being trained and selected for the revenue-generating positions that lead to the top job. At the NAFE Top Companies, we do report small increases in women running major operations and moving into the C-suite, and we encourage all companies to focus on gender equity in their succession planning."
The 2020 NAFE Top 70 Companies application includes more than 200 questions on topics including female representation at all levels, but especially the corporate officer and profit-and-loss leadership ranks. The application tracks and examines how many employees have access to programs and policies that promote advancement of women and how many employees take advantage of them, plus how companies train managers to help women advance. To be considered, companies must have a minimum of two women on their boards of directors, a US-based CEO and at least 1,000 US employees.
Sodexo's commitment to diversity and inclusion has been consistently recognized by external organizations and notable diversity publications. In January, Sodexo was recognized on Bloomberg's 2020 Gender Equality Index and FORTUNE'S 2019 list of the World's Most Admired Companies.
About NAFE
The National Association for Female Executives (NAFE), founded in 1972, serves members with networking, tools, and solutions to strengthen and grow their careers and businesses. Working Mother magazine publishes the annual NAFE Top Companies list. NAFE.com provides up-to-date information, a community for women in business, and access to member benefits. NAFE is a division of Working Mother Media, owned by Bonnier Corporation.
About Sodexo North America
Sodexo North America is part of a global, Fortune 500 company with a presence in 72 countries. Sodexo is a leading provider of integrated food, facilities management and other services that enhance organizational performance, contribute to local communities and improve quality of life for millions of customers in corporate, education, healthcare, senior living, sports and leisure, government and other environments daily. The company employs 160,000 people at 13,000 sites in all 50 U.S. states and Canada, and indirectly supports tens of thousands of additional jobs through its annual purchases of $19 billion in goods and services from small to large businesses. Sodexo is committed to supporting diversity and inclusion and safety, while upholding the highest standards of corporate responsibility and ethical business conduct. In support of local communities across the U.S., in 2018, Sodexo contributed over 159,500 in volunteer hours, and since 1996, the Stop Hunger Foundation has contributed nearly $34.5 million to help feed children in America impacted by hunger. To learn more about Sodexo, visit us.sodexo.com, and connect with us on Facebook, Instagram, LinkedIn, Twitter and YouTube.
CONTACT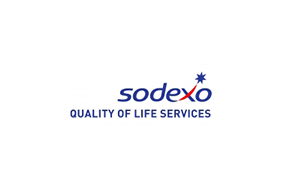 Sodexo
Sodexo
Sodexo, Inc. (www.sodexoUSA.com ) is a leading integrated facilities management services company in the U.S., Canada, and Mexico, with $7.7 billion (USD) in annual revenue and 120,000 employees. Sodexo serves more than ten million customers daily in corporations, health care, long term care and retirement centers, schools, college campuses, government, and remote sites. Sodexo, Inc., headquartered in Gaithersburg, Md., is a member of Sodexo Group, and funds all administrative costs for the Sodexo Foundation (www.sodexofoundation.org ), an independent charitable organization that, since its founding in 1999, has made more than $11 million in grants to fight hunger in America.
More from Sodexo