Published 03-03-20
Submitted by MasterCard Center for Inclusive Growth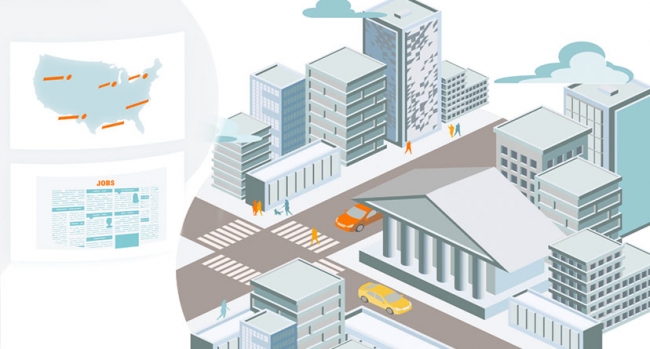 The U.S. economy is continuing the continuing the longest expansion in history — unemployment is at record lows and wages are creeping up, but national averages can hide a lot of variety. Local policymakers in struggling cities certainly know this, as do regional planners. In many big cities, jobs are growing, but wages are declining as low-wage occupations dominate; in others, jobs are disappearing. Even boom towns have their own set of issues, from rising housing costs to growing inequality. And then there's the perennial worry—how long will it last? 
In a nation as big as the United States, there is no such thing as a one-size-fits-all economy. Mayors, planners and policymakers need more tailored options and insights if they are to build a robust and inclusive economy. 
A new data visualization tool from the Mastercard Center for Inclusive Growth, in partnership with the Washington Post Brand Studio, invites readers to put themselves in the shoes of a mayor planning for the future. Choose from a group of 25 cities and learn where that city stands now and how city leaders can embrace the future with an inclusive economy tailored to the particular strengths of that region. 
While the dashboard is easy to use, the information behind the scenes is highly complex. The data and analytics driving the process are based on new research from the Brookings Institution's Workforce of the Future initiative, which is led by Marcela Escobari and supported by the Center. The research applies network science to analyze each city's unique capabilities—including infrastructure, talent and institutions—and to help leaders map new opportunities to grow sectors based on their city's strengths and priorities.
 "Our data moves beyond national trends to integrate the uniqueness of place," said Escobari. "Not every city is going to become the next biotech giant, but each has a set of industries that could feasibly accelerate growth, boost industrial diversity or create quality jobs. Leaders can balance these data-driven insights to create local opportunity and accelerate growth."
Take Los Angeles, for example. Los Angeles's economy is built on more than its creative might; the city also specializes in some of the world's most advanced manufacturing. Although LA is expected to continue to add jobs in the coming years, it needs to ensure they are quality jobs, given that its share of low-wage workers—53 percent—is among the nation's highest. 
Los Angeles Dashboard
According to Escobari's analysis, Los Angeles could spur economic growth by building out a range of business, creative and tech service sectors. It could diversify its economy with a range of tech services. And, for people without bachelor's degrees, it could create quality jobs (those that pay more than the median wage for the area and provide health insurance) by attracting a range of computer manufacturing and financial services sectors.
Houston, on the other hand, is booming;, leading the nation in job growth. Houston is an oil town, but it doesn't rely solely on energy exploration. The city has emerging health care and technology sectors and its port is a hub of import and export trade. This mix has led to its strong jobs numbers. 
Houston Dashboard
But, Houston cannot rest on its laurels; it's critical to remain diversified. According to Escobari's analysis, Houston could diversify its economy through a range of business and technical services. To ensure that those with less education find quality jobs, the region could build out a range of metal manufacturing and wholesale sectors.
Among the country's smaller cities, Birmingham, Alabama, has a lot going for it. It consistently ranks above its mid-sized counterparts in economic development projections thanks to a diverse industry mix. But, Birmingham tends to lag behind booming southern cities like Charlotte and Atlanta because of its reliance on traditional manufacturing industries and less robust advanced industries. 
Birmingham Dashboard
Escobari suggests Birmingham could spur more economic growth by building out a range of financial services and tech service sectors and keep the economy diverse by expanding logistics and manufacturing. City leaders can target a few advanced industries and deliberately cultivate the capabilities they need to bring the unemployed and underemployed into the workforce.
The Analysis Behind the Recommendations
The analysis focuses on three strategies—growing the economy, diversifying and creating quality jobs. 
The strengths of this approach is its tailored recommendations; no city is exactly alike and the dashboard recognizes that. Its recommendations are based on the kind of workers and industries already in play as well as any overlap of capabilities in the current economy that new industries would need if they are to grow. 
But, ensuring the right mix of industries requires the right mix of policies as well. If a city like Atlanta, for example, has a disproportionate share of low-paid jobs and a rising cost of living, then policymakers could focus on increasing wages and improving job quality and expanding access to affordable housing and transport.
And, because no mayor can go it alone, the tool also stresses the need for strong public-private partnerships that can help economies grow and thrive. Companies, for example, can signal what skills and credentials are in demand, and community colleges and training centers can build curricula accordingly. Public and private sectors can work together in many other ways, such as to improve job quality and build a lifelong learning infrastructure.
"The workforce of the future is trending towards a low-skill equilibrium in which firms struggle to find talent, workers struggle to access opportunity and cities struggle to foster shared prosperity," said Escobari. "To alter that trajectory and harness the potential of technological innovation, America's people and places require bold policy at scale. Nudging institutions so that they foster, rather than inhibit economic mobility will require region-wide, systems-based approaches."
Ultimately, the results are forward-looking. They help cities plan for a future that builds on each place's strengths and real-time capabilities and they help policymakers and others to focus their efforts on their city's unique talents and infrastructure. Tailored data like this can help cities drive growth that creates opportunities for the local workforce and ensures that growth is equitable and widely shared. 
So, get started building the future.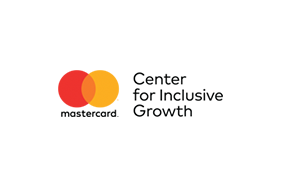 MasterCard Center for Inclusive Growth
MasterCard Center for Inclusive Growth
The Mastercard Center for Inclusive Growth focuses on promoting equitable and sustainable economic growth and financial inclusion around the world. As an independent Mastercard subsidiary, it combines data, expertise and technology with philanthropic investments to empower a community of thinkers, leaders and innovators on the frontlines of inclusive growth. Follow us on Twitter @CNTR4growth and subscribe to receive our latest insights.
More from MasterCard Center for Inclusive Growth