Published 03-02-20
Submitted by Sodexo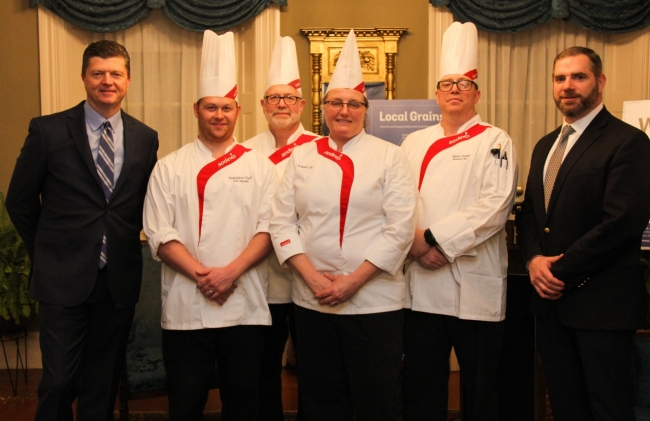 Left to Right: Cal Thetford, COO of Sodexo Universities East; Brian Beaupain, Chef at Thomas College; Doug Winslow, Chef at the University of Maine at Farmington; Wendy Benney, Maine area Executive Chef; Jason Grant, Chef at the University of Southern Mai
Sodexo, a food services and facilities management company committed to improving Quality of Life, has achieved serving 100% Gulf of Maine Responsibly Harvested® white fish at all of its Maine locations. The achievement comes after five years of shifting all white fish purchasing to this ecolabel in partnership with the Gulf of Maine Research Institute (GMRI). Sodexo's managers, chefs, and clients celebrated the achievement with GMRI along with local fisher-people, farmers and other vendors at the governor's mansion, the Blaine House, on February 27.
Local food sourcing is a priority for Sodexo, inspiring the formation of The Maine Course by Sodexo in 2015. Maeve McInnis, director of the Maine Course, coordinates local food sourcing for all of Sodexo's accounts in the state, assisting local business owners in getting their products into the supply chain.
"Choosing a wider variety of fish is good for fishermen, good for the ecosystem and good for our health," says Kyle Foley, senior program manager of the Gulf of Maine Research Institute's Sustainable Seafood Program.
Purchasing responsibly harvested seafood helps the Gulf by focusing on fishing overabundant species. These species are considered "underloved," meaning they're less familiar to consumers, which leads to low prices and lost opportunity for fisher-people. Sodexo has been focused on raising awareness of underloved seafood throughout the state, especially with its college-aged guests.
In celebrating this achievement, Sodexo is further announcing a new commitment within the Maine Course. Over the next five years, all Sodexo sites in Maine will double the number of menu items that include grains, commit to using local grains in those dishes, and increase local grain purchasing by 50%.
Sodexo is committed to making an impact on the state's grain economy, with guidance from the Maine Grain Alliance. Partnering with the Maine Grain Alliance helps make Sodexo's new commitment have a stronger impact on the environment, Maine agriculture, and the wellness of Sodexo guests.
According to Tristan Noyes, Executive Director of the Maine Grain Alliance, rediscovering how to grow, cook, and eat locally-grown grains is an important safeguard in the face of climate change. By purchasing local grain, Sodexo is helping to foster a grain economy that is both good for people and good for the planet.
Sodexo is contributing to the Maine grain community, which has seen a revitalization in recent years. These partners are addressing key issues: feeding our communities, creating jobs, and making farming more viable in Maine.
Sodexo's new commitment includes sourcing local grains, legumes, beans, and pulses from within Maine. In 2019 Sodexo shifted to only serving cookies baked from scratch with local Maine flour and other local ingredients in all of its college dining halls.
About Sodexo North America
Sodexo North America is part of a global, Fortune 500 company with a presence in 72 countries. Sodexo is a leading provider of integrated food, facilities management and other services that enhance organizational performance, contribute to local communities and improve quality of life for millions of customers in corporate, education, healthcare, senior living, sports and leisure, government and other environments daily. The company employs 160,000 people at 13,000 sites in all 50 U.S. states and Canada, and indirectly supports tens of thousands of additional jobs through its annual purchases of $19 billion in goods and services from small to large businesses. Sodexo is committed to supporting diversity and inclusion and safety, while upholding the highest standards of corporate responsibility and ethical business conduct. In support of local communities across the U.S., in 2018, Sodexo contributed over 159,500 in volunteer hours, and since 1996, the Stop Hunger Foundation has contributed nearly $34.5 million to help feed children in America impacted by hunger. To learn more about Sodexo, visit us.sodexo.com, and connect with us on Facebook, Instagram, LinkedIn, Twitter and YouTube.
Sodexo Group
Founded in 1966 by Pierre Bellon, Sodexo is the global leader in services that improve Quality of Life, an essential factor in individual and organizational performance. Operating in 80 countries, Sodexo serves 75 million consumers each day through its unique combination of On-site Services, Benefits and Rewards Services and Personal and Home Services. Through its more than 100 services, Sodexo provides clients an integrated offering developed over more than 45 years of experience: from reception, safety, maintenance and cleaning, to foodservices and facilities and equipment management; from Meal Pass, Gift Pass and Mobility Pass benefits for employees to in-home assistance and concierge services. Sodexo's success and performance are founded on its independence, its sustainable business model and its ability to continuously develop and engage its 420,000 employees throughout the world.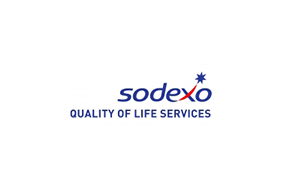 Sodexo
Sodexo
Sodexo, Inc. (www.sodexoUSA.com ) is a leading integrated facilities management services company in the U.S., Canada, and Mexico, with $7.7 billion (USD) in annual revenue and 120,000 employees. Sodexo serves more than ten million customers daily in corporations, health care, long term care and retirement centers, schools, college campuses, government, and remote sites. Sodexo, Inc., headquartered in Gaithersburg, Md., is a member of Sodexo Group, and funds all administrative costs for the Sodexo Foundation (www.sodexofoundation.org ), an independent charitable organization that, since its founding in 1999, has made more than $11 million in grants to fight hunger in America.
More from Sodexo