Published 02-24-20
Submitted by International Paper Company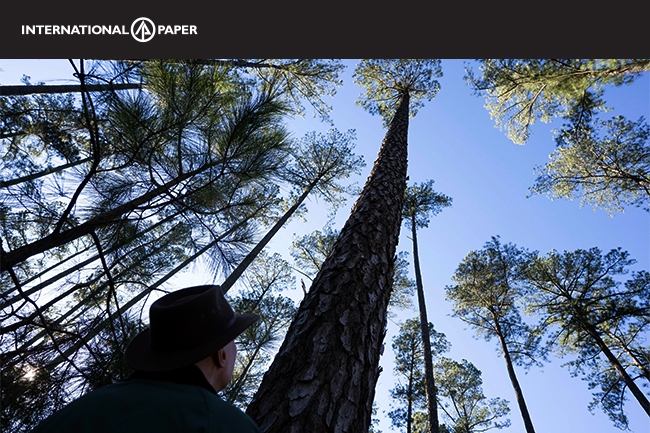 The American Forest Foundation (AFF) announced today that International Paper, one of the world's leading producers of fiber-based packaging, pulp and paper, has joined AFF and its partner, The Nature Conservancy (TNC), in supporting the newly-created Family Forest Carbon Program (FFCP) to enhance carbon sequestration in family owned forest land across the U.S. 
Families own 290 million acres of America's forests, more than state or federal governments and the forest industry, and for many landowners, cost is a barrier to sustainably managing their forestland. The FFCP incorporates family forest owners in the global effort to reduce carbon dioxide in the atmosphere by incentivizing individual and family forest owners to adopt forest management practices that improve forest health and increase carbon sequestration.
The FFCP represents a new approach to climate change mitigation that taps into the carbon storage potential of family-owned forestland while creating a new market and source of income for the families that dedicate time and effort to their forest management. Beyond creating a carbon market for family landowners and improving family forest management, the FFCP also improves overall forest health, fire resilience and water quality.   
"We are so grateful that International Paper recognizes the importance of engaging family forest landowners in climate solutions. Their leadership in providing the support to execute this program is crucial," said Nathan Truitt, Vice President of Strategic Partnerships at AFF.  "International Paper has long been a tremendous partner for sustainable forestry and this investment will mean we can do even more to keep forests healthy and maximize their carbon potential."
 "International Paper is committed to environmental stewardship and we applaud this innovative approach that engages family forest owners in sustainable forest management for carbon and climate benefits," said Sophie Beckham, Chief Sustainability Officer at International Paper. "Our entire business depends on the sustainability of forests, and we are proud to support the Family Forest Carbon Program to ensure healthy and productive forest ecosystems for generations to come."
International Paper recently announced their Vision 2030 sustainability goals, which demonstrate their commitment to building a better future for people, the planet and the company. In keeping with the company's ongoing commitments to sustain forests and to improve the planet, the company's goals include improving their climate impact and leading forest stewardship efforts globally. International Paper's support of the FFCP is one way the company will leverage new and existing collaborations to make its desired impacts over the decade.
Recent research, published by The Nature Conservancy and 21 other institutions in Science Advances, demonstrates that nature-based solutions, like the FFCP, can help absorb one-fifth of the carbon pollution produced in the United States—30 percent more than previously estimated. This is equivalent to the emissions from every U.S. passenger vehicle. Carbon pollution reductions are needed globally by 2030 to keep global temperature increases under 2 degrees Celsius. Support of the Family Forest Carbon Program will help accelerate the impact of nature-based solutions.
About the American Forest Foundation
The American Forest Foundation (AFF) is a non-profit conservation organization that protects and measurably increases clean water, wildlife habitat, and sustainable wood supplies that come from family-owned forests. AFF works with landowners, partners, leading businesses, and policymakers to address key issues such as conserving biodiversity, reducing risk of catastrophic wildfire, and addressing the threat of climate change.  To learn more about the American Forest Foundation and the Family Forest Carbon Program, go to www.forestfoundation.org/carbon.
About The Nature Conservancy
The Nature Conservancy is a global conservation organization dedicated to conserving the lands and waters on which all life depends. Guided by science, we create innovative, on-the-ground solutions to our world's toughest challenges so that nature and people can thrive together. We are tackling climate change, conserving lands, waters and oceans at an unprecedented scale, providing food and water sustainably and helping make cities more sustainable. Working in 72 countries, we use a collaborative approach that engages local communities, governments, the private sector, and other partners. To learn more, visit www.nature.org or follow @nature_press on Twitter.
About International Paper
International Paper (NYSE: IP) is a leading global producer of renewable fiber-based packaging, pulp and paper products with manufacturing operations in North America, Latin America, Europe, North Africa and Russia. We produce corrugated packaging products that protect and promote goods and enable worldwide commerce; pulp for diapers, tissue, and other personal hygiene products that promote health and wellness; and papers that facilitate education and communication. We are headquartered in Memphis, Tenn., employ more than 50,000 colleagues and serve more than 25,000 customers in 150 countries. Net sales for 2019 were $22 billion. For more information about International Paper, our products and global citizenship efforts, please visit internationalpaper.com.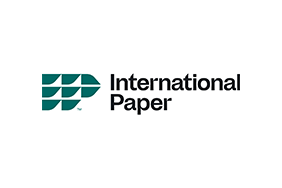 International Paper Company
International Paper Company
About International Paper
International Paper (NYSE: IP) is a global producer of planet-friendly packaging, pulp and other fiber-based products, and one of North America's largest recyclers. Headquartered in Memphis, Tenn., we employ approximately 39,000 colleagues globally who are committed to creating what's next. We serve customers worldwide, with manufacturing operations in North America, Latin America, North Africa and Europe. Net sales for 2022 were $21.2 billion. Additional information can be found by visiting InternationalPaper.com.
About International Paper - EMEA
In Europe, Middle East & Africa (EMEA), International Paper focuses on the production and marketing of fiber-based packaging and pulp, employing approximately 4,200 people. As a leading supplier of high-quality corrugated containers for a multitude of applications, we serve customers throughout the region from our network of two recycled containerboard mills and 23 box plants in France, Italy, Morocco, Portugal and Spain. Pulp production is centered in Gdansk, Poland. Other products available from International Paper in the region include Kraft linerboard and recycled containerboard, as well as pulp.
More from International Paper Company