Published 02-04-20
Submitted by Global Reporting Initiative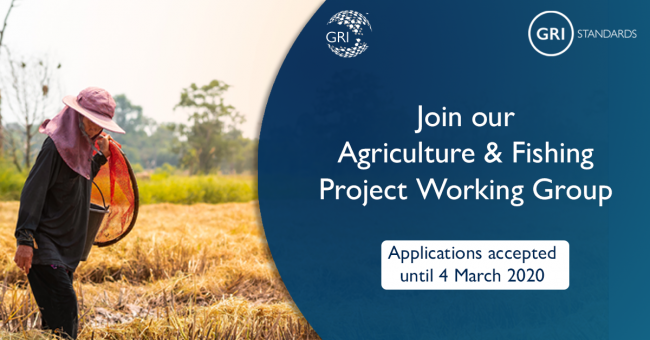 The world's leading sustainability reporting standards setter is developing a new standard to help agriculture and fishing organizations improve how they disclose and manage their impacts.
The Global Sustainability Standard's Board (GSSB), the independent body that sets the GRI Standards, launched the Sector Program in 2019. The program focuses on sectors with the highest impacts on the world around them. Agriculture and fishing are being prioritized because of their significant economic, environmental and social impacts – on areas such as climate change, biodiversity, and human rights.
An open call for applications to join the project working group to shape the new Standard for Agriculture and Fishing is launched today. This group will analyse the value chain and identify opportunities for sustainable development and greater transparency on the topics that matter most.
Experts from diverse backgrounds and all constituency groups across agriculture or fishing, especially those with experience in sustainable development, are invited to apply before the closing date of 4 March.
Bastian Buck, GRI Chief of Standards, said:
"The GRI Standards are the common global language for sustainability reporting and our new Sector Standards will give the added clarity that companies in high-impact sectors need to tackle their shared sustainability challenges.
For agriculture and fishing, those issues are well documented. For example, these sectors are crucial to finding solutions to global health and poverty challenges, provides the main source of employment in developing economies, while agriculture is second only to the energy sector for greenhouse gas emissions.
To help GRI create a Sector Standard that is as effective as possible in advancing sustainability reporting for agriculture and fishing, I encourage all those with relevant expertise to apply to join the working group."
Individuals can find out more and apply online to join the project working group, including details on the role, timelines and requirements. In line with the GSSB's Due Process Protocol, GRI is seeking multi-stakeholder representation – including those from business enterprises, mediating institutions and civil society organizations – to develop recommendations for the new Sector Standard.
Many international organizations have reported on the widespread environmental, economic and social impacts of agriculture and fishing, including the OECD, the UN, and the Intergovernmental Panel on Climate Change (IPCC).
This is the second of the GRI Sector Standards under development, after Oil, Gas and Coal. It is planned that further sectors, focused on those with the highest impacts, will be added in future. The Sector Standards will form part of the GRI Standards, to be used by organizations alongside the universal Standards and relevant Topic Standards.
The Global Reporting Initiative (GRI) is the independent international organization that helps businesses and other organizations understand and communicate their sustainability impacts.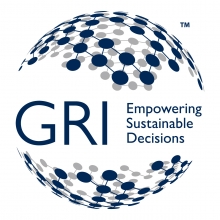 Global Reporting Initiative
Global Reporting Initiative
The Global Reporting Initiative's (GRI) vision is that reporting on economic, environmental, and social performance by all organizations becomes as routine and comparable as financial reporting. GRI accomplishes this vision by developing, continually improving, and building capacity around the use of its Sustainability Reporting Framework.
An international network of thousands from business, civil society, labor, and professional institutions create the content of the Reporting Framework in a consensus-seeking process.
More from Global Reporting Initiative