Published 02-06-20
Submitted by Ethical Corporation
The issues businesses face, and in turn need to communicate, are vast and complex. There's increasing pressure for business to communicate its actions, vision and impact in a way simplified manner that engages key audiences whilst demonstrating integrity and leadership

Last week Ethical Corporation by Reuters Events hosted a one-hour webinar with four senior leaders sharing their practical ideas on how to approach this complex issue. The Head of Group Communications, Clariant, the Global Sustainability Engagement Manager, Pernod-Ricard, the Senior Manager Corporate Responsibility Communications, Merck, and the Chief Communications and Corporate Affairs Officer, OP Financial Group spoke on:
How to communicate simplified, yet compelling sustainability messages

How to engage your customers on sustainability

The latest strategies in engaging employees on sustainability and how to make them part of the movement

How companies are demonstrating leadership whilst retaining consistency with their partners
You can access the full webinar recordings here
 
Best,
Ana
 
Ana Uzcanga
Ethical Corporation – Project Director
Reuters Events
+44 (0) 207 375 7213 | ana.uzcanga@ethicalcorp.com
LinkedIn| www.ethicalcorp.com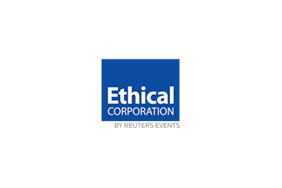 Ethical Corporation
Ethical Corporation
Ethical Corporation has provided business intelligence for sustainability since 2001.
We serve around 3,000 customers a year mainly from big business. Our customers are also NGOs, think-tanks, academia, governments and service providers to the corporate sustainability industry.
We're a UK business, part of FC Business Intelligence Ltd, an independently owned company based in London Ethical Corporation is 100% focused on global ethical business and how large companies are responding to the sustainable business agenda.
We have writers and experts all over the world. We publish the leading global responsible business magazine, host events and sell independent research. Our conferences are widely recognised as the best in the field.
More from Ethical Corporation