Published 02-05-20
Submitted by Ethical Corporation
The global commodity system that has served society for centuries is no longer fit for purpose. What materials businesses buy, where from and how are a crucial part of the sustainability journey; companies are altering sourcing models, simplifying supply chains, and putting purpose and impact at the heart of the procurement process.

To help you implement sustainable procurement practices into your business, hear the latest approaches from 4 senior leaders in our one-hour interactive webinar. Join us on Thursday February 6th at 11am ET for our free online webinar with:
Frances Edmonds, Head of Sustainability, HP Canada

Luc Beerens, Global Sustainability Director, Mars

Sarah O'Brien, Director of Programs, Sustainable Purchasing Leadership Council

Alex Gershenson, CEO, Supplyshift
In this 1-hour webinar, you will learn how to implement sustainable procurement practices into your business:
Combining KPIs: Meeting targets for quality and cost while reducing GHG footprints and delivering social impacts

Procurement and Sustainability Integration: Navigate the challenges of adding sustainability factors into your buying processes

Innovative strategies and technologies that can support this ambition
Can't join? Signup anyway to receive the full post-webinar recordings

Best regards,
Ed

Ed Long
Ethical Corporation – Head of US Operations
Reuters Events
+44 (0) 207 375 7188 | ed.long@ethicalcorp.com
www.ethicalcorp.com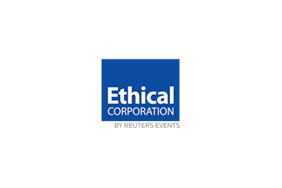 Ethical Corporation
Ethical Corporation
Ethical Corporation has provided business intelligence for sustainability since 2001.
We serve around 3,000 customers a year mainly from big business. Our customers are also NGOs, think-tanks, academia, governments and service providers to the corporate sustainability industry.
We're a UK business, part of FC Business Intelligence Ltd, an independently owned company based in London Ethical Corporation is 100% focused on global ethical business and how large companies are responding to the sustainable business agenda.
We have writers and experts all over the world. We publish the leading global responsible business magazine, host events and sell independent research. Our conferences are widely recognised as the best in the field.
More from Ethical Corporation