Published 01-27-20
Submitted by Global Reporting Initiative
With global leaders gathered in Switzerland for the World Economic Forum (WEF), GRI is pressing for action and commitments that support the transition to sustainable and responsible business.
GRI chief executive Tim Mohin is participating in the WEF annual meeting in Davos this week. That includes a strategy session today with the WEF International Business Council on mainstreaming ESG (Environmental, Social, and Governance) disclosures.
He said:
"I welcome the focus by WEF on the transition to more sustainable capitalism, as articulated in the Davos manifesto. Recognition that corporations need to be accountable for their actions is a step in the right direction - but there's still a long way to go.
The International Business Council's proposals on ESG metrics rely extensively on the comprehensive disclosures in the GRI Standards. That's important because impacts that are financially material to businesses themselves, while important, are only half the story. Companies need to consider all their stakeholders – and not only shareholders.
At this gathering of world leaders and influencers we must not shy away from difficult discussions and decisions. Showing leadership and committing to transparency is essential if we are to achieve the progress required to tackle the significant sustainability challenges facing the global community."
Tim Mohin's engagements in Davos this week include:
WEF 'Stakeholder Approach to Global Accounting Standards' session: advancing the position of ESG disclosures within corporate strategy and governance

WEF impact investing bi-annual strategy meeting: work to implement the proposed Platform on Accelerating the Future of the Impact Ecosystem

World Benchmarking Alliance 'Making it Count' roundtable: discussion on the leadership and accountability needed to drive action on progressing the Sustainable Development Goals

OECD 'Meeting the Future' roundtable: 50 global leaders exchange ideas with local young people (age 14-16) on the issues that matter to them most
The World Economic Forum have today published Toward Common Metrics and Consistent Reporting of Sustainable Value Creation, which looks at ESG disclosure frameworks and references GRI widely throughout.
The WEF annual meeting is taking place until 24 January. Their new Davos Manifesto sets out ethical principles focused on how to advance 'stakeholder capitalism', responding to the pressing environmental and social challenges we face.
The Global Reporting Initiative (GRI) is the independent international organization that helps businesses and other organizations understand and communicate their sustainability impacts. The GRI Standards is the world's most widely used sustainability reporting framework.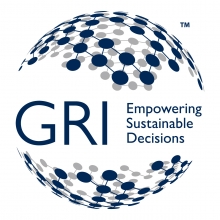 Global Reporting Initiative
Global Reporting Initiative
The Global Reporting Initiative's (GRI) vision is that reporting on economic, environmental, and social performance by all organizations becomes as routine and comparable as financial reporting. GRI accomplishes this vision by developing, continually improving, and building capacity around the use of its Sustainability Reporting Framework.
An international network of thousands from business, civil society, labor, and professional institutions create the content of the Reporting Framework in a consensus-seeking process.
More from Global Reporting Initiative