Published 01-14-20
Submitted by ACCP
The Association of Corporate Citizenship Professionals (ACCP) is pleased to announce Jean Case and Edgar Villanueva will highlight the slate of speakers for Conference 2020 in Orlando March 8-11.
In addition to serving as Chairman of the National Geographic Society, CEO of the Case Foundation, and a former AOL executive, Jean Case is a philanthropist, investor, internet, and impact investing pioneer who advocates for the importance of embracing a more fearless approach to innovate and bring about transformational breakthroughs.
Her leadership as a philanthropist and investor have been praised and profiled in the Wall Street Journal, The New York Times, CNBC, Washington Post, Forbes Magazine, Fast Company, and Fortune Magazine with appearance on networks like CNN and CNBC.
Edgar Villanueva, the best-selling author of Decolonizing Wealth, is also a globally recognized philanthropy expert. Decolonizing Wealth offers compelling alternatives to the dynamics of colonization in the philanthropic and social finance sectors. Edgar's work has been featured in The New York Times, Stanford Social Innovation Review, Washington Post, Forbes and more.
"We are so excited to welcome Jean and Edgar to Conference 2020," says Carolyn Berkowitz, ACCP CEO. "Every year ACCP strives to present attendees with the latest trends, as well as inspiring and provocative speakers, and we know Jean and Edgar will provide unique and inspiring perspectives for CSR professionals."
ACCP Conference 2020 will be held March 8-11, in Orlando FL. Late registration rates go into effect February 1, so please register today on our website: ACCP Conference 2020
ABOUT THE ASSOCIATION OF CORPORATE CITIZENSHIP PROFESSIONALS
Founded in 2005, The Association of Corporate Citizenship Professionals is the membership association for companies committed to corporate citizenship, and a career-long resource for purpose-driven professionals. ACCP advances the field of corporate citizenship and serves as a strategic resource for its community of impact-driven professionals from 200+ member companies—including Fortune 500s, mid-size companies, small businesses and start-ups—so that they can do the most good in their companies, their communities and around the world. For more information, please visit www.accp.org.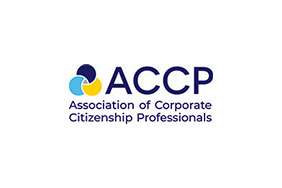 ACCP
ACCP
The Association of Corporate Citizenship Professionals (ACCP) is the nation's leading independent organization providing services and support for corporate contributions, community relations, and employee volunteer managers.
ACCP is a nonprofit advocacy and continuing education organization that helps corporations identify and adopt best practices and provides training for contributions professionals in the contributions, community relations, and volunteerism fields.
More from ACCP