Published 01-14-20
Submitted by Ethical Corporation
There is increasing pressure on companies to disclose accurate data on impacts against material social and environmental issues - plus the future risks and opportunities that the company faces.  ESG information on companies is being utilised as a guide to the movement of capital. ESG is becoming mainstream.

Ethical Corporation has recently published a 15-page management briefing on ESG going mainstream, with insights from the likes of; BlackRock, JP Morgan Chase, Johnson & Johnson, Morgan Stanley and the Governor of the Bank of England.

We hope this briefing will provide plenty of fresh insights for readers. Click here to download it
 
Some key themes of the briefing include:
Defining your transition and physical financial risks

The changing expectations of business: Larry Fink, CEO, Blackrock

Extreme weather spurring companies and investors to act: Governor of the Bank of England

Adapt or die: Coalition for Climate Resilient Investment
Once again you can download your complimentary copy of this ESG investment report, simply click here

I hope you find it of value.
 
Best regards,
 
Ana Uzcanga
Ethical Corporation – Project Director
Reuters Events
+44 (0) 207 375 7213 | ana.uzcanga@ethicalcorp.com
LinkedIn| www.ethicalcorp.com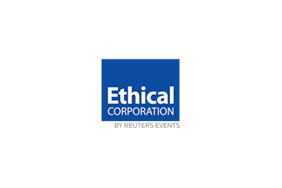 Ethical Corporation
Ethical Corporation
Ethical Corporation has provided business intelligence for sustainability since 2001.
We serve around 3,000 customers a year mainly from big business. Our customers are also NGOs, think-tanks, academia, governments and service providers to the corporate sustainability industry.
We're a UK business, part of FC Business Intelligence Ltd, an independently owned company based in London Ethical Corporation is 100% focused on global ethical business and how large companies are responding to the sustainable business agenda.
We have writers and experts all over the world. We publish the leading global responsible business magazine, host events and sell independent research. Our conferences are widely recognised as the best in the field.
More from Ethical Corporation