Published 11-26-19
Submitted by International WELL Building Institute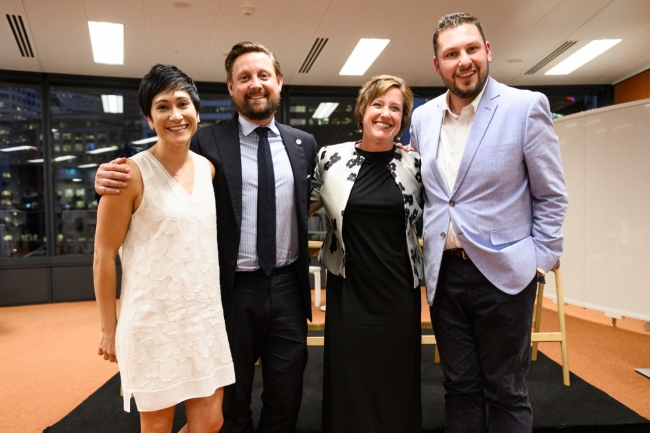 IWBI President Rachel Gutter (left) is joined onstage for a panel discussion by Andrew Cole, Lendlease APPF, Margot Black, Charter Hall, and Jack Noonan, IWBI, to discuss how building owners can help advance a culture of health.
Following a series of events in Melbourne and Sydney last week, the International WELL Building Institute (IWBI) highlighted Australia's leading role in the movement to advance health and well-being in buildings and communities.
IWBI recognised a group of Australia and New Zealand-based leaders who have demonstrated outstanding achievement in advancing health and well-being for people through WELL projects and their contributions to the WELL Portfolio Advisory. Ten people, including those selected from the community of WELL Accredited Professionals (WELL APs) and WELL Faculty members, were honoured during two IWBI Australia awards celebrations hosted by IWBI President Rachel Gutter.
The 2019 IWBI leadership awards were presented to the following WELL Faculty members: Loreta Brazukas, Cundall; Ken-Yi Fong, Arup; and Sophie Hutchinson, ADP Consulting. WELL APs receiving leadership awards included Alex Kobler, WGE/Stantec, and Hayley Koerbin, NDY. Several WELL Portfolio Pilot Advisory members were also recognised, including Andrew Cole, Lendlease APPF; Danny De Sousa, Brookfield AU; Nina James, Investa; Lisa Hinde, JLL APAC; and Tony Short, Charter Hall.
"These exemplary individuals have gone above and beyond to play influential roles in advancing WELL in Australia and New Zealand," said Rachel Gutter. "It is due to the passion and the relentless engagement of the local WELL community in delivering buildings and spaces that support people's health and enable them to fulfil their potential, that we have been able to collectively advance the global wellness movement."
WELL continues to advance the "second wave of sustainability" as the premier standard for buildings, interior spaces and communities seeking to implement, validate and measure features that promote human health and wellness. To date, more than 3,800 projects encompassing over 467 million square feet (nearly 4.5 million square metres) of real estate in 58 countries have been registered or certified through WELL.
Australia's property industry has a global reputation for setting a high bar in the delivery of green buildings and communities. Expanding on the world-class outcomes promoted by Green Star around health and well-being, the country is now also embracing WELL. Australia's 177 projects make it the third highest country in square footage, after the U.S. and China, and fourth highest in number of projects after the U.S., China and the UK.
The expanding WELL community has enthusiastically embraced the WELL movement in Australia and New Zealand. More than 230 individuals in Australia have successfully passed the WELL AP exam or are registered, highlighting the growing pool of practitioners and industry professionals looking to develop and demonstrate their understanding of strategies that put people and their health and well-being at the center of decisions about buildings and communities. Nine WELL Performance Testing Organisations servicing Australia or New Zealand now employ GBCI-trained Performance Testing Agents, bringing the ability to conduct performance verification direct to the local market and helping facilitate market transformation. In addition to the WELL Portfolio Advisory, Australians are participating in WELL Concept Advisories – a network of 100 experts reviewing the evidence and research behind WELL v2 and helping to drive what's next within each of the 10 concepts in the WELL Building Standard.
"The industry in Australia has long demonstrated its intention to stand at the forefront of innovation in the movement to deliver better buildings that support health and sustainability," added Gutter. "Every day we're seeing real estate developers, owners and operators, architects, designers, sustainability consultants, human resources managers and other like-minded professionals come together to drive the rapid uptake of WELL and showcase their commitment to delivering positive environmental, social and wellness outcomes."
Recent notable project achievements in Australia include the following:
Lendlease's Melbourne NextPlace Office was awarded Platinum level WELL Certification, the first project in Australia to be certified under WELL v2. This follows the Lendlease International Towers Sydney achieving the world's first Platinum level WELL Core & Shell Certification for 3 million total square feet (278,000 square metres) of workspace last year, and Lendlease's global headquarters at Barangaroo South achieving Australia's first WELL Certified Platinum workplace.

Arup's Melbourne Workplace also recently achieved WELL Certified Platinum after upgrading from WELL v1 to v2, signifying its commitment to apply the latest proven wellness strategies.

After achieving Precertification, Worksafe achieved WELL Certified Gold for its office situated within the WELL Certified Platinum 1 Malop St building. The office serves as the headquarters for the Victorian State Government's Workplace Health and Safety Administrator.

Lot Fourteen, the former Royal Adelaide Hospital redevelopment, was the first WELL Community Standard project registered in Australia.
IWBI continues to value its partnership with the Green Building Council of Australia (GBCA) as they work together to accelerate the uptake of building practice that helps improve the health and wellness of people in Australia. GBCA supports the adoption of WELL locally, develops and drives educational initiatives, and collaborates with IWBI to prepare members of the local market for the WELL AP program.
About the International WELL Building Institute
The International WELL Building Institute (IWBI) is leading the global movement to transform our buildings and communities in ways that help people thrive. The WELL v2 pilot is the latest version of its popular WELL Building Standard, and the WELL Community Standard pilot is a district scale rating system that sets a new global benchmark for healthy communities. WELL is focused exclusively on the ways that buildings and communities, and everything in them, can improve our comfort, drive better choices, and generally enhance, not compromise, our health and wellness. IWBI convenes and mobilises the wellness community through management of the WELL AP credential, the pursuit of applicable research, the development of educational resources, and advocacy for policies that promote health and wellness everywhere. IWBI is a participant of the United Nations Global Compact, the world's largest corporate citizenship initiative, and helps companies advance the UN Sustainable Development Goals (SDGs) through the use of WELL. For more information, please visit us here.
ADDENDUM – Public WELL Certified Projects in Australia:
Arup Melbourne Workplace
Interface Sydney Office and Showroom
Lendlease Melbourne NextPlace Office
Barrack Place, 151 Clarence Street
Wilkhahn Forum, Sydney Australia
International Towers Sydney 1, 2 and 3 + Barangaroo South – Lendlease tenancy
Charter Hall Workplace - Melbourne
Frasers Property Australia - Rhodes Tenancy
Media Contact:
IWBI
Kristen Coco
kristen.coco@wellcertified.com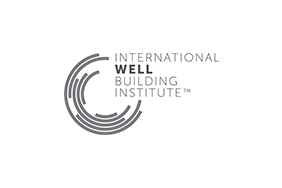 International WELL Building Institute
International WELL Building Institute
The International WELL Building Institute™ (IWBI™) is a public benefit corporation whose mission is to improve human health and well-being through the built environment. IWBI administers the WELL Building Standard™ (WELL) – a performance-based system for measuring, certifying, and monitoring features of buildings that impact the health and well-being of the people who live, work, and learn in them. IWBI was established pursuant to a Clinton Global Initiative commitment to improve the way people live by developing spaces that enhance occupant health and quality of life by sharing the WELL Building Standard globally. www.wellcertified.com
More from International WELL Building Institute