Published 10-28-19
Submitted by International Olympic Committee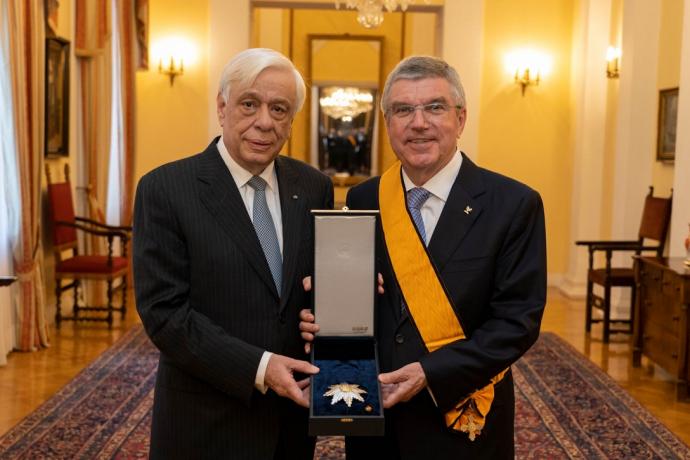 Speaking at the ceremony, Greek President Pavlopoulos expressed his appreciation of the IOC President's "exemplary services in favour of the values and principles of the Olympic spirit and ideals".
"Under your presidency, the Olympic Games transcendently express these values and principles and are therefore aimed at all of humanity," he said. 
"Your presidency of the International Olympic Committee renders a great service to the whole world and to human beings because you act for the benefit of peace, democracy and civilisation. We Greeks are historical guardians of the ancient traditions of classical Olympism, and we commend your steadfast commitment to the Olympic spirit and the ideals of Olympism. It is a commitment that you demonstrate in everything you do."
Accepting the award, IOC President Thomas Bach said: "I am particularly touched to receive this distinction knowing that it is an honour that was also bestowed by the Hellenic Republic on my predecessor, the renovator of the Olympic Games, Baron Pierre de Coubertin".
"Greece has offered to humanity two of the most precious gifts. It was here in Athens that democracy was born more than 2,500 years ago. It was in Olympia that the Olympic Games came into being 3,000 years ago. Today, thankfully, democracy and the Olympic Games, these two Greek gifts to humanity, continue to exist in our modern society."
Thomas Bach concluded by paying tribute to President Pavlopoulos' personal appreciation of the Olympic Movement: "In presenting me with the Order of the Phoenix, you are honouring the entire Olympic Movement as well as the Olympic values, which you have always fervently defended and promoted, and which you have demonstrated throughout your life."
The ceremony was attended by members of the Greek Olympic family, headed by Spyros Capralos, IOC Member in Greece and President of the Hellenic Olympic Committee,  George Papandreou, former Prime Minister of the Hellenic Republic, and ministers and government officials. The Mayor of Olympia, Georgios Georgiopoulos, was also present during the event.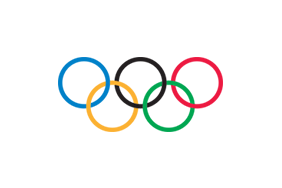 International Olympic Committee
International Olympic Committee
The International Olympic Committee (IOC) is a not-for-profit independent international organisation that is committed to building a better world through sport. It redistributes more than 90 per cent of its income to the wider sporting movement, which means that every day the equivalent of USD 3.4 million goes to help athletes and sports organisations at all levels around the world.
As the leader of the Olympic Movement, the IOC acts as a catalyst for collaboration between all parties of the Olympic family, from the National Olympic Committees (NOCs), the International Sports Federations (IFs), the athletes and the Organising Committees for the Olympic Games (OCOGs) to the Worldwide Olympic Partners, broadcast partners and United Nations (UN) agencies, and shepherds success through a wide range of programmes and projects. On this basis, it ensures the regular celebration of the Olympic Games, supports all affiliated member organisations of the Olympic Movement and strongly encourages, by appropriate means, the promotion of the Olympic values.
More from International Olympic Committee