Published 10-22-19
Submitted by Ethical Corporation
It's almost been 5 years since the Sustainable Development Goals were adopted but what advancement has been made and how can companies make real progress on tackling the goals by 2030?

Ethical Corporation have just produced a 12-page management report with expert response and analysis on efforts to help address the world's biggest sustainability challenges

Click here to download the complimentary 12-page SDG reporting management briefing

Key learnings include:
EnRoute to 2030: Holding business accountable for their SDG pledges

The funding gap: Mobilizing private finance to achieve the SDGs

Reporting on the SDGs: Why it's far from fool-proof for investors

Mondi Case Study: Working with partners to tackle issues like clean water
Click here to view the briefing

Best regards,
Ed

Ed Long
Project Director
Ethical Corporation
Tel: +44 (0) 207 375 7188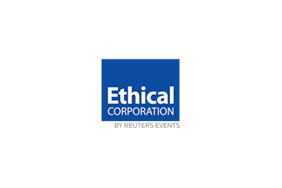 Ethical Corporation
Ethical Corporation
Ethical Corporation has provided business intelligence for sustainability since 2001.
We serve around 3,000 customers a year mainly from big business. Our customers are also NGOs, think-tanks, academia, governments and service providers to the corporate sustainability industry.
We're a UK business, part of FC Business Intelligence Ltd, an independently owned company based in London Ethical Corporation is 100% focused on global ethical business and how large companies are responding to the sustainable business agenda.
We have writers and experts all over the world. We publish the leading global responsible business magazine, host events and sell independent research. Our conferences are widely recognised as the best in the field.
More from Ethical Corporation