Published 09-13-19
Submitted by International WELL Building Institute
The International WELL Building Institute (IWBI) continues to grow its recently launched membership program for leaders who want to accelerate the adoption of a worldwide culture of health and well-being, adding a number of global leaders to its already impressive roster. The program is designed to be a platform for collaboration that allows for deeper engagement and broader reach for companies excited by the evidence that shows how the places and spaces we occupy every day can help people thrive.
"IWBI membership provides an opportunity for organizations to align with the WELL movement and join a community of leaders committed to advancing health and well-being across the globe," said IWBI Chairman and CEO Rick Fedrizzi. "This diverse member network brings together product manufacturers, scientific institutes, real estate developers and others across multiple industries to advance a single mission - building a healthier future for everyone."
There are two tiers of membership and a third designation for companies already enrolled in the WELL Portfolio program. This allows companies to select the best fit for their organizational goals. Member benefits include discounts on the WELL Certification process and WELL AP credentialing program, specialized opportunities to publicize accomplishments, and more touchpoints with IWBI leadership and across the broader community through members-only year-round events and enhanced digital engagement. The program creates pathways for WELL advocates and champions to stay connected, share best practices, explore new shared initiatives, and receive greater recognition for these efforts.
The continued growth of IWBI membership parallels WELL's rapid uptake across the globe as the tool of choice for leaders who value the verified performance of design and operations when the health and well-being of people is at stake. To date, over 3,779 projects with more than 440 million square feet of registered space are participating in WELL in 58 countries. Much of WELL's success is driven by a global network of WELL APs, with nearly 9,000 people either credentialed or are in the process, that helps provide expertise and guidance to project teams across the world.
New members since 9/10/19
AIR AURORA AIR PURIFICATION TECHNOLOGY(SHANGHAI)CO.,LTD.
AM RED
Ambius
Armstrong Flooring, Inc.
ArthaLand Corporation
ASSA ABLOY
Beijing DIHE Construction Engineering Design Co.,Ltd.
Better Home
C.Y. LEE & PARTNERS  Architects / Planners
China Academy of Building Research Shanghai Branch
Contract Workplaces
Das Daring Energy Technology Co., Ltd
DGMR Bouw BV
Earth Friendly Products
EASTLINKS SHANGHAI ENVIRONMENTAL TECHNOLOGY CO.,LTD (LELANTUS)
EBA Investments
Enel
HB Reavis
HUNDRED GROUP CO., LTD.
HVAC Services Pte. Ltd.
I.DEA Ecological Solutions
iDA Workplace + Strategy
Mecho
PRILIKA
Rockfon
SOCOTEC Immobilier Durable
Shenzhen Nottingham Sustainable Development Institute Ltd.
Tellmach (Beijing) Engineering Consulting Co.,LTD
The Green Engineer
These members join IWBI's existing membership community, including:
A SustainAble Production (ASAP)
Aircuity Inc.
Arup
Athie Wohnrath
Atkins
BCCI Construction Company
BEE Incorporations
Beijing Tenhong Real Estate Development Co., Ltd
CBRE Group
China Jinmao Green Building Co. Ltd
CHINA OVERSEAS OFFICE CAPITAL中海商务
China Railway Construction Real Estate Group Co., Ltd
China Resources (Shenzhen) Co., Ltd
COOKFOX Architects, DPC
Corgan
CRECC
Cushman & Wakefield
D Squared Consulting Pty Ltd
DEERNS
Ecoworks Studio
EDGE Technologies
Enriching Spaces
Environmental Market Solutions, Inc.
GB Tech Consulting Ltd.
GuocoLand (China) Limited
Hines
HKS, Inc.
HOK
JLL
Kaiterra
Knight Frank (India) Pvt. Ltd.
KRIEA C.I (Korea Research Institute of Eco-Environmental Architecture)
LANDLEAF
Legrand
Lendlease Corporation
M Moser Associates
Material Circle
Merriman Anderson/Architects, Inc.
Mi2
Milliken
Minmetals Land
Mohawk Industries
Overbury
Poly Development Holding Group Co., Ltd.
PRILIKA
RDG Planning and Design
Research Center for Healthy Cities, Institute for China Sustainable Urbanization, Tsinghua University
Robarts Spaces
Ronald Lu & Partners
SaShuang Intelligent Technology (shanghai) Co., Ltd
Shanghai Research Institute of Building Sciences (SRIBS)
SHENZHEN CENTRALCON GROUP CO., LTD.
Shenzhen Institute of Building Research Co., Ltd.
Shenzhen Junye Building Technology Co., Ltd.
Shenzhen Lemajorservice Technology Co., Ltd
SHIMIZU CORPORATION
Sino-Ocean Group Holding Limited
Skanska
Stantec
Steve Leung Designers Limited
Steven Winter Associates Inc
Structure Tone Organization
Sweden Green Building Council
Taiwan Architecture & Building Center
Tatami
Teknion
Tetra Tech High Performance Buildings Group
The Spinnaker Group
Well Living Lab (China)
Well Living Lab (US)
YAMA Desarrolladora Inmobiliaria
"We look forward to growing this movement and welcome every organization to join us in putting our buildings and communities to work as partners in improving the health and well-being of people everywhere," Fedrizzi said.
About the International WELL Building Institute
The International WELL Building Institute (IWBI) is leading the global movement to transform our buildings and communities in ways that help people thrive. The WELL v2 pilot is a recently launched version of its popular WELL Building Standard, and the WELL Community Standard pilot, a district scale rating system that sets a new global benchmark for healthy communities. WELL is focused exclusively on the ways that buildings and communities, and everything in them, can improve our comfort, drive better choices, and generally enhance, not compromise, our health and wellness. IWBI convenes and mobilizes the wellness community through management of the WELL AP credential, the pursuit of applicable research, the development of educational resources, and advocacy for policies that promote health and wellness everywhere. More information about membership can be found here.
International WELL Building Institute, IWBI, the WELL Building Standard, WELL v2, WELL Certified, WELL AP, WELL and others, and their related logos are trademarks or certification marks of International WELL Building Institute pbc in the United States and other countries.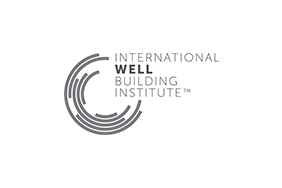 International WELL Building Institute
International WELL Building Institute
The International WELL Building Institute™ (IWBI™) is a public benefit corporation whose mission is to improve human health and well-being through the built environment. IWBI administers the WELL Building Standard™ (WELL) – a performance-based system for measuring, certifying, and monitoring features of buildings that impact the health and well-being of the people who live, work, and learn in them. IWBI was established pursuant to a Clinton Global Initiative commitment to improve the way people live by developing spaces that enhance occupant health and quality of life by sharing the WELL Building Standard globally. www.wellcertified.com
More from International WELL Building Institute