Published 08-14-19
Submitted by Ethical Corporation
Ethical Corporation have just published the newly updated brochure for this year's market-leading Sustainability Reporting and Communications Summit (16-17 Oct, Amsterdam)

To be one of the first to see the latest agenda, speakers and exclusive discounts click here

This year's event is built to provide you and your peers with the networking and learning that you need. The event features more workshop sessions on Investor engagement and delivering more accurate disclosures. New speakers include senior executives from the likes of; BlackRock, IIRC, Kingfisher, UN Environment, Merck and Moody's Investment Service to name a few.

Newly confirmed event sponsors include Datamaran and Given London – joining Flex, S&P Global and MSCI. All will be sharing their expert insights and solutions to improve the reporting process.

Click here to access the newly updated brochure

Previous event feedback:

"The event is a useful platform for anyone working in corporate responsibility – it brings together all major players in the field to debate and align on the most pressing sustainability issues"
Tim Mohin, Chief Executive, GRI
 
"This is truly an inspirational event - perfectly combining best cases on complying with the requirements of CR reporting and exploring the diverse chances of CR communication. It is a great opportunity to meet with peers and learn from their experiences."
Michael Goebbels, Director Corporate Responsibility, METRO AG
 
For more information about the event contact:

Liam Dowd
Managing Director
Ethical Corporation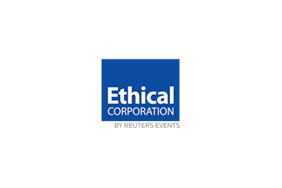 Ethical Corporation
Ethical Corporation
Ethical Corporation has provided business intelligence for sustainability since 2001.
We serve around 3,000 customers a year mainly from big business. Our customers are also NGOs, think-tanks, academia, governments and service providers to the corporate sustainability industry.
We're a UK business, part of FC Business Intelligence Ltd, an independently owned company based in London Ethical Corporation is 100% focused on global ethical business and how large companies are responding to the sustainable business agenda.
We have writers and experts all over the world. We publish the leading global responsible business magazine, host events and sell independent research. Our conferences are widely recognised as the best in the field.
More from Ethical Corporation