Published 07-09-19
Submitted by Ethical Corporation
Climate change is our starkest challenge: could artificial intelligence help us meet it head on? Many of our most challenging problems are incredibly complex, new tools for monitoring the environment and climate mitigation are needed to help business join the dots, helping you make better decisions.
 
Ethical Corporation have just produced a 34-page briefing on Technology for Good, with expert response and analysis to help you join the dots on technology and sustainability.
 
Click here to download the complimentary 34-page tech for good management briefing
 
Key learnings include:
AI lights the way: Smarter energy use

Appliance of science: cutting transport emissions

Blockchain & farming: How AB InBev is helping farmers

Making way for women in tech 
Click here to download the complimentary 34-page tech for good management briefing
Best regards,
Ed
Ed Long
Project Director
Ethical Corporation
Tel: +44 (0) 207 375 7188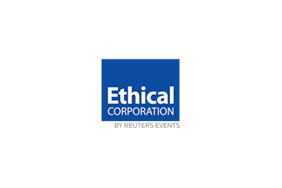 Ethical Corporation
Ethical Corporation
Ethical Corporation has provided business intelligence for sustainability since 2001.
We serve around 3,000 customers a year mainly from big business. Our customers are also NGOs, think-tanks, academia, governments and service providers to the corporate sustainability industry.
We're a UK business, part of FC Business Intelligence Ltd, an independently owned company based in London Ethical Corporation is 100% focused on global ethical business and how large companies are responding to the sustainable business agenda.
We have writers and experts all over the world. We publish the leading global responsible business magazine, host events and sell independent research. Our conferences are widely recognised as the best in the field.
More from Ethical Corporation