Published 07-03-19
Submitted by Ethical Corporation
Investors are increasingly using shareholder resolutions to request greater disclosure on climate-related risks. The TCFDs have created a framework for more effective climate-related reporting, however many companies are still struggling to accurately report current and future impacts.

Leading companies are pioneering ways to use the guidelines to improve the quality of their climate-related financial disclosures. On Thursday 11th July (10am BST) Ethical Corporation will host a one-hour webinar discussion, where four senior leaders will share their strategies, insights and ideas on how to improve climate-related disclosures. Those leading the discussions are:
Janice Lao, Director Corporate Responsibility and Sustainability, The Hongkong and Shanghai Hotels

Tjeerd Krumpelman, Head of Reporting and Stakeholder Engagement, ABN AMRO

Christopher Sveen, Chief Sustainability Officer, UBQ Materials

Daniel Turner, Head of Corporate Engagement and Reporter Services, CDP

Moderator: Liam Dowd, Managing Director, Ethical Corporation  
Join the free one-hour webinar debate, click here

Key topics of discussion:
Implementing the TCFD recommendations into the business

Monetising climate impacts and showcasing a transition to the low-carbon economy

Conducting a scenario analysis of current and future climate risks
Once again, to join the one-hour webinar discussion, simply click here

Best regards,

Liam Dowd
Managing Director
Ethical Corporation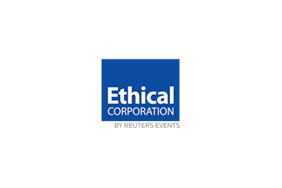 Ethical Corporation
Ethical Corporation
Ethical Corporation has provided business intelligence for sustainability since 2001.
We serve around 3,000 customers a year mainly from big business. Our customers are also NGOs, think-tanks, academia, governments and service providers to the corporate sustainability industry.
We're a UK business, part of FC Business Intelligence Ltd, an independently owned company based in London Ethical Corporation is 100% focused on global ethical business and how large companies are responding to the sustainable business agenda.
We have writers and experts all over the world. We publish the leading global responsible business magazine, host events and sell independent research. Our conferences are widely recognised as the best in the field.
More from Ethical Corporation