Published 02-08-19
Submitted by ACRE Investment Management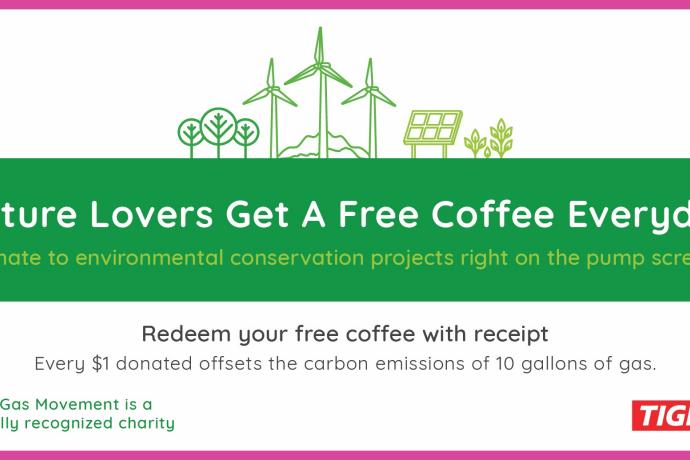 More Trees and Free Coffee Please
The Markets of Tiger Fuel Company have partnered with Green Gas, at all nine of their locations in Central Virginia to encourage consumers to reverse their cars' environmental impact at the gas pump. By simply agreeing to donate through an on-pump prompt, drivers can donate to GreenTrees, the leading reforestation carbon program in North America. With every turn of the wheel, Market customers can be part of the solution to regenerate forests in North America.
Donating just one dollar at The Market pumps is certified by Green Gas to absorb 189 pounds of carbon emissions, the exact amount of pollution emitted from the average 10 gallon fill-up. Since rollout, Market customers have already planted enough trees to absorb the carbon emissions of 144,000 miles driven on Virginia roads. To help supercharge the initiative, The Market is offering a free coffee to all donors.
The Market is the first gas station chain in Virginia to support the Green Gas project on its pumps, making it a pioneer in the retail fuel industry.  This partnership is part of an ongoing commitment by Tiger Fuel Company to support sustainable practices, following the company's recent installation of solar panels at two of its newest locations.
"Sustainability is one of our core business principles," said Gordon Sutton, president of Tiger Fuel Company. "We couldn't be happier to offer such a unique program that enables our customers to express their environmental values."
Consumers interested in supporting Green Gas and removing their car's carbon emissions from the air can visit any of The Markets' nine locations in Charlottesville and surrounding areas.
The Market Locations
The Market at 5th Street
1154 5th St SW
Charlottesville, VA 22901
(434) 971-6614

The Market at Mill Creek
1335 Parham Circle
Charlottesville, VA 22902
(434) 817-1570

The Market at Bellair
2401 Ivy Road
Charlottesville, VA 22901
(434) 971-6608

The Market at Pantops
1192 Richmond Road
Charlottesville, VA 22901
(434) 293-6796

The Market at Cherry Avenue
701 Cherry Ave
Charlottesville, VA 22903
(434) 293-5288

The Market at Preston Avenue
601 Preston Ave
Charlottesville, VA 22903
(434) 328-8266

The Market at Lake Monticello
53 Turkey Sag
Palmyra, VA 22963
(434) 591-0713

The Market at Locust Grove
32301 Constitution Highway
Locust Grove, VA 22508
(540) 854-4085

About Tiger Fuel Company
Tiger Fuel Company is a dependable full-service energy provider and a complete petroleum products distributor for Central Virginia. Tiger is the area's largest distributor of home heating fuels, and offers one-stop shopping for all your petroleum needs, and represents the following major brands: Exxon, BP, CITGO, and its own private label, EXCEL. Tiger also operates nine Markets, a chain of convenience stores featuring a gourmet-to-go food menu, as well as ten All American Car Wash locations in Central Virginia. For more information, please visit www.tigerfuel.com. 
About Green Gas
Headquartered in Boston, Green Gas is a nonprofit partner to fuel retailers, a leading provider of carbon neutral fuel solutions, inventing new environmental action tools for the greater public good and connecting millions of people to climate change solutions at gas pumps across the US. https://greengasmovement.org/
About GreenTrees
GreenTrees® is the largest reforestation program in North America with more than 120,000 acres of trees planted with its 500 landowner partners, producing over 1,000,000 tons annually on The American Carbon Registry. GreenTrees was awarded the prestigious Innovation Award in 2018 for the successful and scaled results to date. www.green-trees.com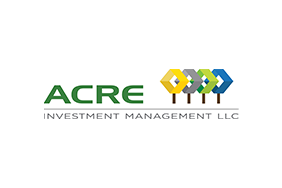 ACRE Investment Management
ACRE Investment Management
ACRE Investment Management, LLC (AIM) is a wholly owned investment platform created by C2I, LLC. The AIM platform is designed to both deploy the ACRE mechanism across a portfolio of companies while driving scaled impact into the restoration economy.
The ACRE (Advanced Carbon Restored Ecosystem) represents all the environmental and conservation attributes associated with the restoration and/or conservation of one physical acre of property. We recognize that there is a genius to nature. Ultimately, ACRE is about putting a price and value on its services—water, wildlife, carbon and so much more.
A recent study commissioned by C2I, the parent company of AIM, states that reforestation brought to scale around the world can sequester as much as 15% of the world's current emission output. This scale will lead to a ten-percent reduction of of Global Mean Temperature (GMT) in absolute terms.
As the world races to prevent a 2 degree C rise of GMT, reforestation is the only immediately scalable solution. Given 1/3 of all the emissions has come from deforestation, it only makes sense that we embrace the power of nature and restore ecosystems around the world and do it on scale.
More from ACRE Investment Management