Published 01-29-19
Submitted by Ray C. Anderson Foundation

Seven international entrepreneurial teams will take the stage at GreenBiz Group's Circularity 19 event in Minneapolis this June to find out who will win the world's premiere biomimicry design prize.
The $100,000 Ray of Hope Prize, sponsored by the Ray C. Anderson Foundation, will be awarded to one of seven finalist teams in the Biomimicry Institute's  Launchpad, an accelerator program for early-stage, nature-inspired innovations. A $25,000 second prize from an anonymous donor will also be awarded.
"Awarding the Ray of Hope Prize is one of the highlights of our year," said John A. Lanier, executive director of the Ray C. Anderson Foundation. "We get to see the best of the best when it comes to aspiring entrepreneurs who understand the importance of harmonizing business and the environment. They share the same values that Ray Anderson held dear, values also embraced by the outstanding team at GreenBiz."
From June 18-20, 2019, GreenBiz's Circularity 19 event will bring together more than 500 thought leaders and practitioners to define and accelerate the circular economy, a transformational business strategy focused on designing and manufacturing products and materials that have continuous lifecycles. Biomimicry, a foundational principle of the circular economy, is an approach to innovation that seeks sustainable solutions to human challenges by emulating nature's patterns and strategies.
"The transition from a linear to circular economy is ultimately a design challenge," said Lauren Phipps, Director and Senior Analyst of Circular Economy at GreenBiz Group. "We're thrilled to partner with the Ray C. Anderson Foundation and Biomimicry Institute to elevate innovations that demonstrate the potential of using biomimicry to tackle the world's thorniest problems."
The Biomimicry Launchpad was created to support biomimicry entrepreneurs as they take early-stage, nature-inspired solutions to market, deploying the solutions we need right now to tackle the climate change crisis. Over the course of a year, Launchpad teams work with experts and mentors to prototype and test their designs. The Launchpad experience culminates in the Ray of Hope Prize award event.
The seven teams who are vying for the Ray of Hope Prize are:
Aruga Technologies
 (Pittsburgh, PA, US) - self-cleaning surface technology, inspired by the dynamic surface structure of arteries, dolphin skin, and mussel byssuses.
EcoSTP
 (Bangalore, India)- an eco-friendly sewage treatment approach, inspired by the four chambers of a cow's stomach.
Gen-Rail
 (Long Beach, CA, US) - an innovation that harnesses wind generated on urban freeways and converts it into energy, based on inspiration from cockroaches, California condors' wing shape and the desert snail shell's structure.
Habari
 (Utrecht, The Netherlands)-  technology that protects tea plants from frost damage, inspired by the giant groundsel and giant lobelia plants.
Phalanx Insulation
 (Long Beach, CA, US) - an insulation grid meant to be applied to exterior walls of existing buildings, inspired in part by cacti, Saharan silver ants, and the Saharan camel.
UPOD
 (Ithaca, NY, US) - a carnivorous plant-inspired mosquito control device.
Watchtower Robotics
 (Boston, MA, US) - a gecko-inspired leak detector to help water pipeline operators around the world save water and protect infrastructure.
"The ancient civilizations all looked to nature for design ideas that worked," says Biomimicry Institute Executive Director Beth Rattner. "They had no other choice as they were limited by resources. Today, we are limited by both time and resources, and again, people are realizing it is time to look to nature. Our Launchpad teams are finding biological "blueprints" and applying them to present-day needs in a way that will save time, money, and pain. We marvel at what they have been able to do in just one short year and can't wait to see them in the market."
The Ray C. Anderson Foundation has supported the Biomimicry Global Design Challenge and the Biomimicry Launchpad since 2014, a multi-year effort to crowdsource, support, and seed promising innovations inspired by nature. Each year, the Institute and Foundation together award the $100,000 Ray of Hope Prize® to the most viable prototype that embodies the radical sustainability principles of biomimicry.
Applications are now open for the 2019-2020 Biomimicry Launchpad cohort. Want to get support to bring your bio-inspired idea to life? You can learn more and apply at 
innovation.biomimicry.org/launchpad
.
About GreenBiz Group
GreenBiz Group is the leading media and events company at the intersection of business, sustainability and innovation. Through media, events, research and membership network, GreenBiz Group drives transformation and accelerates progress — within companies, industries and in the very nature of business. 
https://www.greenbiz.com
About Circularity 19
Circularity 19 will bring together more than 500 thought leaders and practitioners to define and accelerate the circular economy. Through inspirational plenaries, interactive breakouts, hands-on design charrettes, networking opportunities and a solutions-focused expo, Circularity 19 will inspire, inform and empower participants to make the shift to a circular economy. 
https://www.greenbiz.com/events/circularity/minneapolis/2019
About the Biomimicry Institute
The Biomimicry Institute is a 501(c)(3) not-for-profit organization that empowers people to seek nature-inspired solutions for a healthy planet. 
http://www.biomimicry.org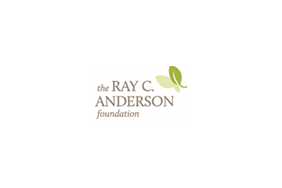 Ray C. Anderson Foundation
Ray C. Anderson Foundation
The Ray C. Anderson Foundation was created in honor of the late Ray C. Anderson (1934-2011), founder of Interface, Inc. During his time at Interface, Ray championed the notion of businesses doing well by doing good. It's these noble qualities of advancing knowledge and innovation around environmental stewardship and sustainability that recognized Ray as a pioneer in industrial ecology.
The purpose of the Foundation is to perpetuate these shared values and continue the legacy that Ray left behind. Through research and funding, the Foundation aims to help create a better world for future generations—tomorrow's child. Join us as the story of the Foundation continues to unfold.
More from Ray C. Anderson Foundation