Published 11-14-18
Submitted by Reuters Events Sustainable Business
I'm excited to announce that we have just released the agenda for Ethical Corporation's 18th Responsible Business Summit Europe (10-12 June 2019). Download your newly released brochure here: http://1.ethicalcorp.com/LP=21639
The recent IPCC and WWF reports paint a stark picture, our planet is on the brink of an irreversible collapse. Coupled with increasing societal pressures, rapid innovations and changes in technology pose turbulent and challenging times ahead.
However, these challenges provide new opportunities to transform industries and societies. It's time for business to embrace these opportunities and lead to a new clean and sustainable future. It will involve leadership, hard decisions, ambitious collaborations and innovations.
Our Responsible Business Summit Europe 2019 is built to provide practical ideas and opportunities to meet those that are shaping the future of sustainable business.

Our focused agenda covers: 
Time to lead: Identify innovations, materials, technologies and partnerships that will help your business deliver ambitious social and climate impacts

Data-driven materiality and impact: Develop systems and strategies that provide accurate data on future risks, opportunities and evidence impacts

New multi-stakeholder approach:  Engage Employees, Investors, NGOs, Governments, Customers, Suppliers and Competitors to truly deliver ambitious [SDG] impacts 

Communicate, engage and report: Demonstrate leadership and become a trusted voice on material issues

New for 2019 – Investor focus:  Opportunity for investors and corporates to share ideas on future risks and opportunities through focussed workshop discussions
2019 confirmed speakers include:
SakerNusseibeh, CEO, Hermes

Magnus Billing, CEO, Alecta

Erik Fyrwald, CEO, Syngenta

Al Naqvi, President, American AI Association

Ryan O'keeffe, Managing Director, Blackrock

Jeff Hogue, Chief Sustainability Officer, C&A

Sally , CEO, Forum for the future

Catherine Howarth, CEO, Share Action

Leon Wijnands, Global Head of Sustainability, ING

Sami Naffakh, EVP, Chief Supply Chain Officer, Arla Food

Plus many many more…
Be the first to see the full speaker line-up and agenda here: http://1.ethicalcorp.com/LP=21639

Exclusive Launch Discount – get £100  discount by using  the code LAUNCH when registering online here - Hurry up- discount ends this Friday.

Alternatively, would you like me to reserve your place?

Candy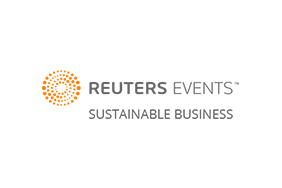 Reuters Events Sustainable Business
Reuters Events Sustainable Business
Reuters Events Sustainable Business has a mission to help businesses around the globe do the right thing by their customers and the world. We believe this is not only how to guarantee a future for all, but makes good business sense. We serve CSR, compliance, risk and governance communities with topical and insightful business intelligence and meeting places.

We provide business intelligence to more than 3,000 multinational companies every year. Our customers are also NGOs, think-tanks, academia, governments and consultancies. We publish the leading responsible business magazine, website, and research reports. Our conferences are widely recognised as the best in the field.
More from Reuters Events Sustainable Business