Published 09-24-18
Submitted by PJSC "MMC "NORILSK NICKEL"
Nornickel's most ambitious environmental initiative, The Sulphur Project, aimed at radically improving the environment in its regions of operations, was launched at Nornickel's Copper Plant on the 10th September.
Present at the ceremony were Nornickel's President, Vladimir Potanin, and Sergey Menyailo, Vladimir Putin's Siberian Envoy.
"The President has supported our initiative from the start, implementing it into government regulations. We envision the project to be completed by 2023." Potanin said. "Implementing this project will allow us to hold our heads high and be proud of our work."
"We must create normal [environmental] conditions for people if we want to develop. The fact that today Nornickel is launching such an ambitious project, is not only the will of the company's board of directors but is a requirement of our times. Citizens are directly impacted by ecological issues - business and politics are ready to tackle these head on." Sergey Menyailo declared.
1.5 to 1.7 million tonnes of sulphur dioxide per year is projected to be captured from now to 2023. Its by-product: elemental sulphur and gypsum, of which Nornickel will acquire 280,000 and 5 million tonnes per year respectively.
The Sulphur Project is mainly aimed at the Copper Plant and The Nadezhda Metallurgical Plant (NMP), in Nornickel's Polar Division. The modernisation and expansion of production capacities at the Copper Plant, for processing sulphur dioxide emissions, will increase elemental sulphur production by 3.5 times.
Toxic production at the Copper Plant will be shut down and blister copper production will be moved outside Norilsk city limits to the NMP. The installation of continuous converting facilities at the NMP will allow the Plant to become an enterprise, housing and utilising large volumes of sulphur dioxide-rich emissions. The Sulphur Project will finally be completed once a recycling plant has been built at the NMP, where captured sulphur dioxide will be turned into sulphuric acid, neutralised by limestone to produce gypsum. 
Nornickel has carried out a global ecological program since 2013. The first stage was completed successfully in 2016 with the Nickel Plant's shut down. The smelting of nickel concentrate was then moved to the NMP, the capacities of which were improved to 2.4 million tonnes. The Talnakh Enrichment Plant was also modernised, its production capacities improved by more than 35%, producing up to 10.2 million ores per year. This modernisation improved the metal content in the concentrate and reduced sulphur dioxide emissions. 
The Kola Peninsula has also gone through radical changes. Nornickel's Kola MMC no longer burns concentrates, instead, the metal is now briquetted and then sent to be smelted. A project aimed at separating copper and nickel metal concentrates from poor to rich, will be completed at the Kola MMC in 2019. This will reduce sulphur dioxide emissions on Norway's border by 50%, since 2015.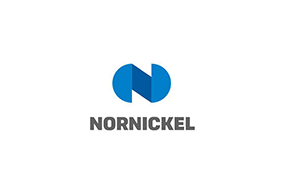 PJSC "MMC "NORILSK NICKEL"
PJSC "MMC "NORILSK NICKEL"
Nornickel Group isthe world's largest producer of nickel and palladiumone of the world's leading producers of platinum and copper.The Company produces cobalt, rhodium, silver, gold, iridium, ruthenium, selenium, tellurium and sulfur.
More from PJSC "MMC "NORILSK NICKEL"